Why the Washington Football Team should sign Ryan Fitzpatrick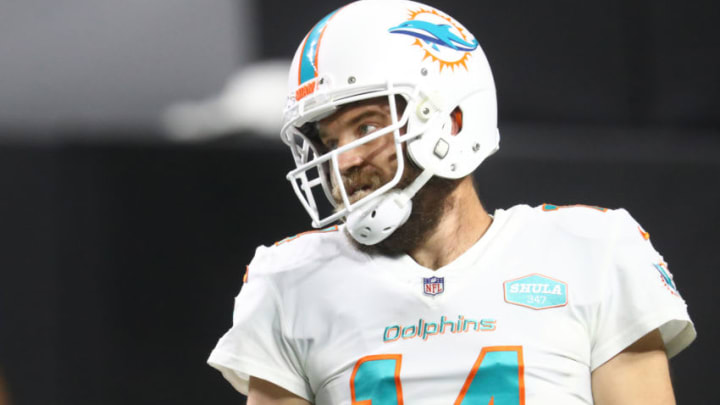 Miami Dolphins QB Ryan Fitzpatrick. Mandatory Credit: Mark J. Rebilas-USA TODAY Sports /
This piece is part of the Riggo's Rag Roundtable quarterback debate. For more Washington Football Team QB options, click here.
At this point in the offseason, it seems that nearly every available quarterback has been linked to the Washington Football Team in one way or another.
One name that has emerged in the rumor mill deserves a second look by both the fans and the decision-makers in Ashburn: free agent quarterback Ryan Fitzpatrick.
More from Riggo's Rag
Why the Washington Football Team should sign Ryan Fitzpatrick
Field Yates of ESPN recently put out a story predicting all 32 starting quarterbacks for the 2021 season. In that story, Yates projected Fitzpatrick to the Washington Football Team. Yates' point centers around the fact that with the 19th overall pick, Washington sits too far back to make a major quarterback splash on draft day.
"Fitzy is about as well-traveled as any other player in the league over the past 15 years," Yates wrote. "But he continues to play at a strong enough level to merit starting consideration."
The stats from Fitzpatrick's two-year tenure in Miami prove Yates right. Fitzpatrick, who turned 38 last November, held a 4-3 record in seven starts last season, splitting quarterback duties with rookie Tua Tagovailoa. In nine total games played, Fitzpatrick recorded a career-high in completion percentage (68.5 percent) while recording a 13-to-8 TD-INT ratio.
The highlight of Fitzpatrick's season came in a Week 16 matchup against the Las Vegas Raiders. In relief of Tagovailoa, Fitzpatrick threw for 182 yards and a touchdown, leading Miami to a victory and keeping the Dolphins' playoff hopes alive into the final week.
A 34-yard completion to Mack Hollins in the final seconds of the game, completed while Raiders defender Arden Key had a fistful of Fitzpatrick's facemask, led to the game-winning field goal.
Entering his 17th season in the NFL, Fitzpatrick does not represent a long-term solution for the Washington Football Team. However, Fitzpatrick has remained a quality starter in the league and would be a great player to plug the hole at quarterback while a feasible long-term solution is sought.
Fitzpatrick's asking price makes him a top option for the 2021 season. Fitzpatrick's contract with the Dolphins paid out $8 million last season, making Fitzpatrick a bargain at his talent level. Washington can get a quality starter for cheap with an incentive-laden deal in case "FitzMagic" begins to fade during the season.
With Taylor Heinicke already under contract, Fitzpatrick can continue his mentor role in Washington. One possible option for Washington would be to sign Fitzpatrick to start over Heinicke, where he can serve as a mentor figure during 2021 in case Washington sees Heinicke as a long-term quarterback option.
In addition, Heinicke serves as insurance for Fitzpatrick. If Fitzpatrick begins to slump, the switch can be easily made. It is a low-risk, high-reward signing for Washington.
The last time Ryan Fitzpatrick started all 16 games was 2015, when he led the New York Jets to a 10-6 record, narrowly missing the playoffs. While Fitzpatrick is now entering his age-39 season, his cheap contract would allow Washington to pursue higher-value free agents at positions of need like wide receiver.
With the cap flexibility, Washington can pursue a high-caliber wide receiver like Allen Robinson or Curtis Samuel, giving Fitzpatrick enough weapons to show off his talents.
For fans, having Ryan Fitzpatrick as your starting quarterback is appointment television. Fitzpatrick is unafraid to take risks and still has a throwing arm capable of throwing a deep pass. With an incentive-laden contract, Fitzpatrick will have even more motivation to take chances and will Washington to wins in 2021.
No, Fitzpatrick is not a homerun signing or trade target that fans may desire. Nor is he a quarterback Washington can build around for the next five seasons. But, Fitzpatrick can lead Washington to a playoff berth now and serve as the perfect quarterback to fill the position while the team looks for a long-term replacement.
Fitzpatrick would not go wrong in making the Washington Football Team the ninth stop on his journeyman career. If Fitzpatrick wants to make the playoffs for the first time in his career, it is perhaps his best option.
Click the links below to read about each QB option.
Roundtable: Which QB should the Washington Football Team target?