Washington Redskins 2020 Christmas wish list and superlatives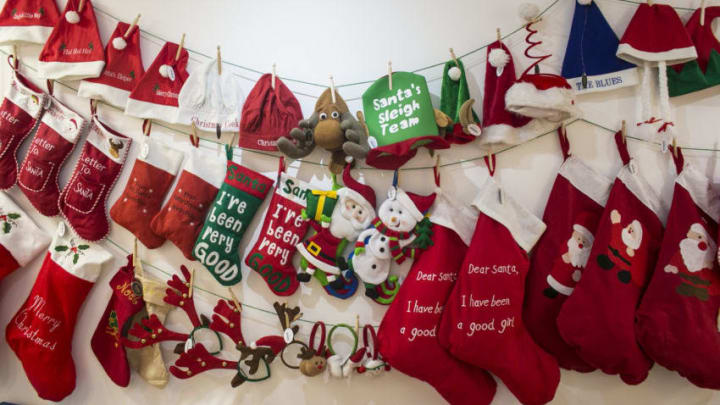 CWMBRAN, WALES - DECEMBER 10: Christmas stockings are displayed in the showroom at the Festive Productions Ltd premises on December 10, 2013 in Cwmbran, Wales. Although Christmas Day 2013 is only two weeks away, the staff at Festive are already planning and gearing up for Christmas 2014. The 14 acre fully integrated showroom, factory and warehouse measuring 250000 sq ft in size holds Festive Productions, who are now the last manufacturer of tinsel in UK - with the majority of tinsel sold in the UK made at the factory in Wales. As well as tinsel, Festive, which is one of Europe's largest suppliers and manufacturer of Christmas and seasonal decorations, has increased its product portfolio, to include nearly every conceivable Christmas decoration category including baubles, tinsel garlands, wreaths, lights, fibre optic trees and artificial trees. (Photo by Matt Cardy/Getty Images) /
LANDOVER, MD – DECEMBER 22: Dwayne Haskins #7 of the Washington Redskins warms up before the game against the New York Giants at FedExField on December 22, 2019 in Landover, Maryland. (Photo by Scott Taetsch/Getty Images) /
Christmas coming early – The progression of Redskins youth in 2019
In a way, Christmas came early for Redskins fans this year. The season itself wasn't anything to write home about, as the Redskins are 3-12 with one week left to play. But the last few weeks have been more promising than earlier ones. The team's young core is trending up, and it's got that tinge of Hallmark holiday hope to it all.
There's Dwayne Haskins, whose season is over after suffering an ankle injury, but not before he concluded the year with a 7:3 touchdown-to-interception ratio as a starter, and not before he showed immense growth each week, looking tougher, faster, smarter, and smoother with every passing start.
There's Terry McLaurin, the instant No. 1 receiver who still has a chance to break the 1,000-yard mark with one game left to go. There's Steven Sims, the shifty slot man who's coming off a multi-touchdown game. There's sixth-round rookie Kelvin Harmon, who's averaged over three receptions per game since entering the starting lineup. There's Derrius Guice, who showed off his explosiveness and physicality before being placed injured reserve.
There's Ioannidis, and Sweat, and Holcomb, and Dunbar. Comet and Cupid and Donner and… wait, no, I'm thinking of something else.
But you get the idea. Even if you don't get what you want for Christmas, you've still got something to celebrate. There's reason for optimism in Ashburn, and for once, a small, shivering light at the end of the tunnel.
How can you say "Bah, humbug" to that?