Washington Redskins 2020 Christmas wish list and superlatives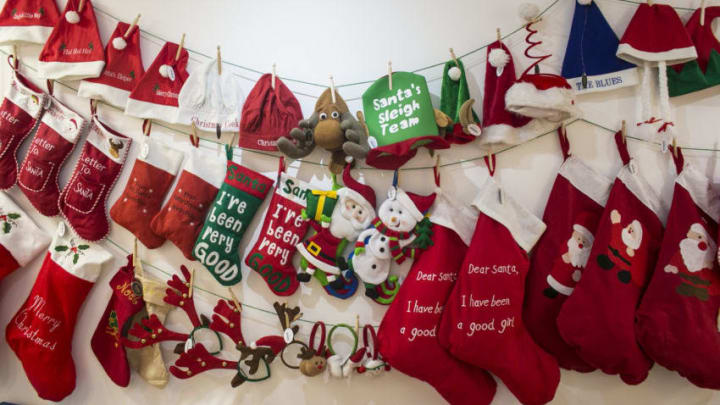 CWMBRAN, WALES - DECEMBER 10: Christmas stockings are displayed in the showroom at the Festive Productions Ltd premises on December 10, 2013 in Cwmbran, Wales. Although Christmas Day 2013 is only two weeks away, the staff at Festive are already planning and gearing up for Christmas 2014. The 14 acre fully integrated showroom, factory and warehouse measuring 250000 sq ft in size holds Festive Productions, who are now the last manufacturer of tinsel in UK - with the majority of tinsel sold in the UK made at the factory in Wales. As well as tinsel, Festive, which is one of Europe's largest suppliers and manufacturer of Christmas and seasonal decorations, has increased its product portfolio, to include nearly every conceivable Christmas decoration category including baubles, tinsel garlands, wreaths, lights, fibre optic trees and artificial trees. (Photo by Matt Cardy/Getty Images) /
INDIANAPOLIS, INDIANA – DECEMBER 07: Chase Young #2 of the Ohio State Buckeyes during the BIG Ten Football Championship Game against the Wisconsin Badgers at Lucas Oil Stadium on December 07, 2019 in Indianapolis, Indiana. (Photo by Andy Lyons/Getty Images) /
Don't open it until April – The No. 2 overall draft pick
With one week left in the regular season, the Redskins have the No. 2 overall pick in the 2020 NFL Draft. It's one of those really nice supplementary Christmas gifts; you expected something like it, but it exceeds your expectations and makes Christmas just a little bit better.
This particular gift, however, can't be fully enjoyed until late April. That's when the 2020 NFL Draft occurs, and that's when you'll find out what this pick contains. Will it be a transcendent edge prospect, and the best overall player in the NFL Draft, in Chase Young? Will it be a trade back to net more picks and more growth potential? The choice isn't yours, but you can spend the next few months fantasizing about what might be.
Here's one last stern reminder: Don't open it until April. You can't, either way.