Washington Redskins 2020 Christmas wish list and superlatives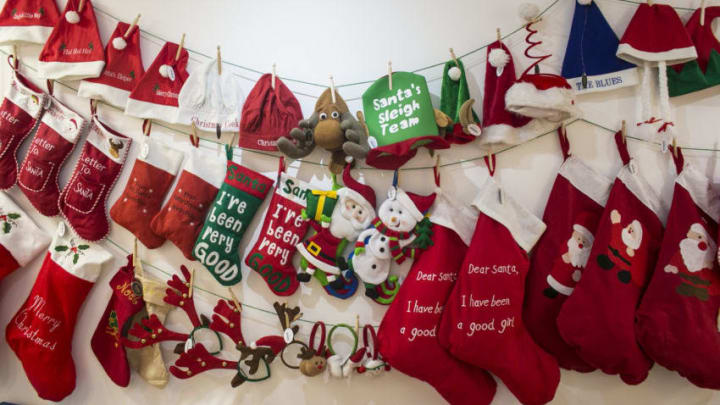 CWMBRAN, WALES - DECEMBER 10: Christmas stockings are displayed in the showroom at the Festive Productions Ltd premises on December 10, 2013 in Cwmbran, Wales. Although Christmas Day 2013 is only two weeks away, the staff at Festive are already planning and gearing up for Christmas 2014. The 14 acre fully integrated showroom, factory and warehouse measuring 250000 sq ft in size holds Festive Productions, who are now the last manufacturer of tinsel in UK - with the majority of tinsel sold in the UK made at the factory in Wales. As well as tinsel, Festive, which is one of Europe's largest suppliers and manufacturer of Christmas and seasonal decorations, has increased its product portfolio, to include nearly every conceivable Christmas decoration category including baubles, tinsel garlands, wreaths, lights, fibre optic trees and artificial trees. (Photo by Matt Cardy/Getty Images) /
ASHBURN, VA – JANUARY 09: Washington Redskins Executive Vice President and General Manager Bruce Allen speaks to members of the media after Jay Gruden was introduced as the new head coach of the Washington Redskins during a press conference at Redskins Park on January 9, 2014 in Ashburn, Virginia. (Photo by Patrick McDermott/Getty Images) /
The gift you didn't want, but got – Bruce Allen being re-assigned
This is the gift you get because the one you asked for was too expensive, too unrealistic, or prematurely broke up the friendship of two misguided front office executives. It's wrapped like the gift you wanted, and it's presented like the gift you wanted. But it's not what you wanted.
Sure, Bruce Allen being re-assigned is something, but it still keeps the man who's weighed down the team for a decade in the front office, and in a results-driven business, that shouldn't be the case. It does nothing to stymy the hesitance felt by coaching candidates and new players, and it gives Allen a chance to re-establish his corrosive influence over time.
These gifts are non-returnable; Santa took the tags off. So you have to live with it for now, and hope that next year, you can finally get what you asked for; a long, arduous wait, made worthwhile only by its eventual fruit.
Bruce Allen is a human too, of course, so Bruce, have a merry Christmas. Job performance isn't the focus today. So enjoy it. December 26 isn't far away.