Jackie Taylor's praise changes perspective on Commanders' botched memorial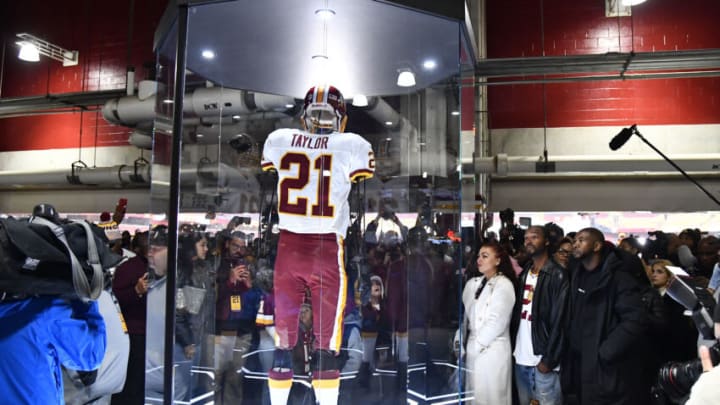 Nov 27, 2022; Landover, Maryland, USA; Family and fans at the unveiling of a Sean Taylor memorial at FedExField. Mandatory Credit: Brad Mills-USA TODAY Sports /
The Washington Commanders picked up a huge win over the Atlanta Falcons on Sunday. Before the game, though, fans were up in arms about the team's effort to honor Sean Taylor on the 15th anniversary of his tragic passing.
While Washington nailed the ceremony and all the other components, the unveiling of Taylor's statue/memorial left something to be desired. The end product was Taylor's iconic No. 21 jersey and uniform on a mannequin with wire arms.
The Commanders haven't set a high bar for themselves, but fans were of the understanding they'd rebound after the travesty that was Taylor's jersey retirement ceremony last season. You might recall the ceremony being announced three (3) days in advance. The announcement also came just days after the Bruce Allen-Jon Gruden email controversy was unearthed.
Instead of sculpting a life-sized statue of Taylor — maybe the generational safety's exemplary hitting form, or him hauling in an interception — the memorial installation, as Dan Snyder coined it, resembled something you'd find in the team store.
To say the Commanders were dragged through he mud by fans and media members would be the understatement of the century.
Any and all criticism is justified. But what if we told you that Taylor's family, including his daughter, Jackie, approved of the memorial?
An emotional Jackie Taylor approved the Commanders' memorial and ceremony for her late father, Sean Taylor.
Taylor's review should put a different perspective on the memorial. That's not to say fans shouldn't be outraged that Snyder took the easy way in honoring an iconic who died protecting his family from an armed robbery to score bonus PR points. But shouldn't Taylor's family's approval be all that matters?
While the entire mannequin was panned, Washington's decision to slap soccer cleats on Taylor's feet really didn't sit well with fans.
However, that was Jackie's favorite part of the memorial. The former Pro Bowler rocked soccer cleats — typically a red or black pair (Nike not Adidas, but beggars can't be choosers) like the one included on the installation — throughout his career, albeit not for every game.
Soccer cleats are lighter relative to football spikes, and helped Taylor patrol the secondary with more elusiveness. That was Taylor's "thing." He zigged when everyone else zagged, and Jackie and the entire Taylor family clearly appreciated this gesture by the organization.
Everyone's entitled to their opinion. You can question why the uniform was mismatched — Nike-branded jersey with Reebok pants (Nike wasn't producing NFL jerseys while Taylor was playing) — and why Taylor's facemask wasn't taped, but fans can take solace in the face that Jackie and the Taylor family are happy with the memorial.
Isn't that the most important thing?