Ranking Kirk Cousins' top 3 performances with the Commanders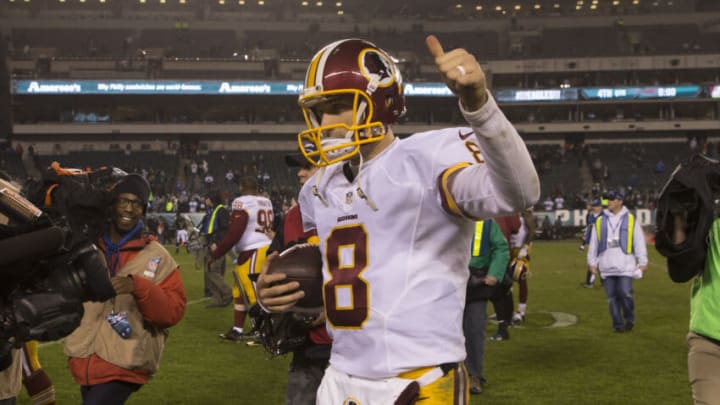 PHILADELPHIA, PA - DECEMBER 26: Kirk Cousins #8 of the Washington Redskins celebrates at the end of the game against the Philadelphia Eagles on December 26, 2015 at Lincoln Financial Field in Philadelphia, Pennsylvania. The Redskins defeated the Eagles 38-24. (Photo by Mitchell Leff/Getty Images) /
(Photo by Matt Hazlett/Getty Images) /
1. "You like that!" game
You might be wondering what tops clinching a division title against the Eagles in Philadelphia. How about the signature moment of Cousins' career? And it just so happened to come less than two months before that win over the Eagles.
Desperate for a victory against Buccaneers in Week 7, Washington was in danger of dropping to 2-4 after falling behind 24-0 in the second quarter. Over the final two-plus quarters, though, Cousins went on an absolute heater and delivered one of the finest quarterback performances in a burgundy and gold uniform.
Cousins led an inspired comeback, culminating in a touchdown pass to Reed (surprise, surprise) with under a minute left in the fourth quarter to complete the largest comeback in franchise history. Washington outscored Tampa Bay 31-6 after falling behind 24-0 to win 31-6, as Cousins went 33-of-40 (!) for 317 yards and three scores to zero interceptions.
Jogging to Washington's locker room moments after the win, Cousins was captured screaming "You like that!", and that phrase — for better or worse — has followed Cousins throughout his career in the seven years since.
Not hyperbole to say this win saved Washington's season, as they went on to win six of their remaining nine games to secure the NFC East crown.
Let's hope we get primetime Cousins Sunday at FedEx Field.