Ranking Kirk Cousins' top 3 performances with the Commanders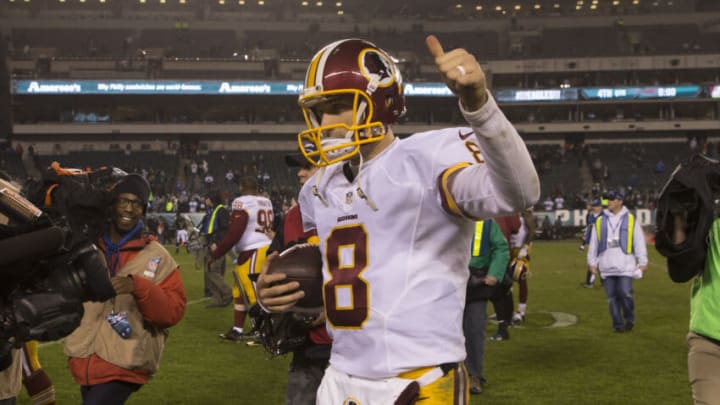 PHILADELPHIA, PA - DECEMBER 26: Kirk Cousins #8 of the Washington Redskins celebrates at the end of the game against the Philadelphia Eagles on December 26, 2015 at Lincoln Financial Field in Philadelphia, Pennsylvania. The Redskins defeated the Eagles 38-24. (Photo by Mitchell Leff/Getty Images) /
(Photo by Mitchell Leff/Getty Images) /
2. Clinching NFC East against a rival
We couldn't not include the game Cousins recalled as one of his favorite moments from his Commanders tenure. There aren't many things better than clinching a division title — Washington  accomplished that once during the Cousins era — but doing it against the hated Eagles made it so much more memorable.
In the game, Cousins went 31-of-46 for 365 yards and four touchdowns (120.3 passer rating) in a 38-24 victory. Washington needed Cousins to go scorched earth in this game, too, as the Eagles bottled up Alfred Morris to the tune of 49 yards on 2.9. yards per carry.
Like so many big games during Cousins' time in Washington, Jordan Reed was the quarterback's go-to target, finishing with nine catches for 129 yards and two scores. Pierre Garcon chipped in with 80 yards on seven catches.
Here's Cousins describing why this game meant so much to him.
""We came back from the game, pulled into the facility at 2 a.m., 3 a.m., the bus couldn't move because it was just packed with fans. I'll never forget that. The bus finally gets in the gate, drops us off at our cars and we've got to now go back out in our cars. My wife came to pick me up. So, I hop in the car with my wife, and she and I both will never forget that – trying to leave the practice facility and being unable to do it because people were just all over our cars, knocking on the window and it was just tremendous.""
Anyone else having flashbacks after reading that quote?