Latest PFF mock draft sees Commanders make blockbuster trade for QB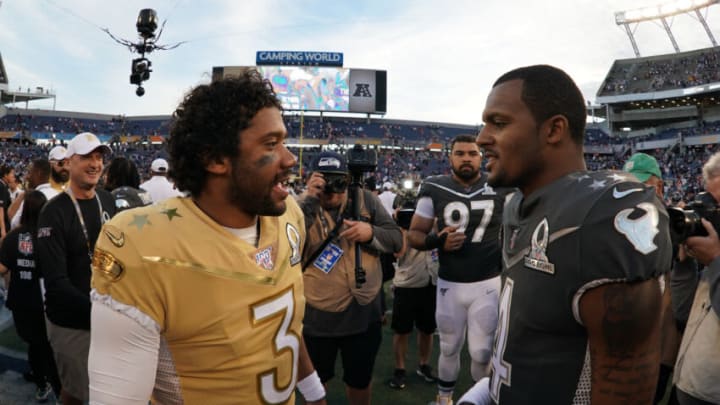 Jan 26, 2020; Orlando, Florida, USA; NFC quarterback Russell Wilson of the Seattle Seahawks (3) and AFC quarterback Deshaun Watson of the Houston Texans (4) talk after the 2020 NFL Pro Bowl at Camping World Stadium. The AFC defeated the NFC 38-33. Mandatory Credit: Kirby Lee-USA TODAY Sports /
It sucks to say it, but the Washington Commanders are all but out of the running for Packers quarterback Aaron Rodgers.
According to ESPN's Dianna Russini, Washington isn't on Rodgers' list of trade destinations and aren't one of "multiple" tams with an offer on the table for him. Could that have something to do with Green Bay being against trading him within the conference? You bet, but it looks like a long shot regardless.
In theory, this report leaves Russell Wilson and Deshaun Watson as the other "attainable" star quarterbacks this offseason.
We've yet to see any reports link Wilson or Watson to the Commanders, but Pro Football Focus' latest mock draft reflects the notion that the team has a realistic chance of acquiring Wilson from the Seattle Seahawks.
The best part? Washington wouldn't give up a huge haul.
Pro Football Focus' latest mock draft has the Commanders acquiring Russell Wilson from Seattle.
In this mock, simulated by PFF's Austin Gayle, three big-ticket quarterbacks are on the move. The Commanders net Wilson, the Steelers acquire Derek Carr, which is quite the shock given the Raiders seem keen on extending him, and the Broncos put the league on notice by nabbing Rodgers from Green Bay.
"If the rumors mount to results and Seattle does pull the trigger on a Russell Wilson trade, Washington is a realistic landing spot for his services. The Commanders shouldn't consider themselves in rebuild mode with a roster chock full of talent at multiple premium positions.That's not to say they fit into the tried trope that is "being a quarterback away," but they're closer than a lot of other quarterback-needy teams and should view a trade for Wilson as the shorter path to a Super Bowl than drafting a rookie signal-caller at No. 11 overall."
Hard to argue with that logic, no? As we previously alluded to, the trade compensation would be a dream scenario for Washington, as Gayle thinks Wilson could be had for just three (!) draft choices: the No. 11 overall pick, its 2022 second-rounder (No. 43 overall), along with a 2023 first-round pick.
It goes without saying, but if Seattle only demands two first-round draft choices and a second-rounder for Wilson, a nine-time Pro Bowler who's typically in the MVP discussion every year, Washington should make the deal yesterday.
Even if it takes adding a third first to the collection and replacing the second-rounder with a third, you do it. Even if it takes two first-rounders, a second and a core player (Montez Sweat, anyone?) you do it and don't think twice about it.
With the Commanders' picks, Gayle has Seattle drafting UNC quarterback Sam Howell and Auburn cornerback Roger McCreary.
That's admittedly a solid return, but if we had to choose between a future first-ballot Hall of Famer in Wilson over two talented, but unknown prospects (not commodities, prospects), we'd take Wilson every single time.
So should you.