Latest practice squad addition could foreshadow late-season offensive approach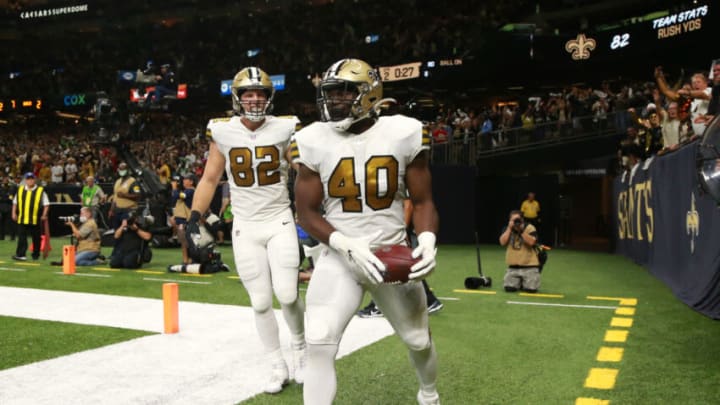 NEW ORLEANS, LOUISIANA - OCTOBER 31: Alex Armah #40 of the New Orleans Saints celebrates after scoring a touchdown during the second quarter against the Tampa Bay Buccaneers at Caesars Superdome on October 31, 2021 in New Orleans, Louisiana. (Photo by Sean Gardner/Getty Images) /
The Washington Football Team's performance against the New Orleans Saints in Week 5 was arguably the worst of the season.
In the loss, Washington surrendered maybe the easiest Hail Mary of all time and allowed Jameis Winston to throw for four touchdowns.
Suffice it to say Ron Rivera's group would love another crack at the Saints, who've lost five games in a row since Winston went down with a torn ACL.
Since that's impossible, Washington decided to do the next best thing: steal one of their now-former players.
Last week, Washington signed fullback Alex Armah to their practice squad. Though far from a household name, Armah's reputation as a blocker is rock-solid and his signing could hint at the offense's approach going forward.
The Washington Football Team signed Alex Armah to the practice squad.
Fresh off giving Antonio Gibson and JD McKissic a combined 36 carries, a new season-high, in Week 12 vs Seattle, adding Armah tells us Washington is taking their commitment to running the football seriously.
Why shouldn't they? Gibson's shin injury isn't bothering him nearly as much as it did before the bye. Over the last four games, he's tallied 385 rushing yards. He's looked increasingly decisive in between the tackles and that's resulted in more missed tackles. In fact, since Week 10 he has the most missed tackles forced and second most yards after contact amongst running backs.
Throw Armah into the backfield as an extra blocker and we could see Gibson's efficiency numbers start to take off as well. For the season, the 2020 third-round selection is still averaging less than four yards per carry.
Where is this blind faith in Armah coming from, you ask? Well, he was drafted by Ron Rivera with the Panthers back in 2017, so he won't have to do much to prove himself as a late-season addition.
Furthermore, Norv Turner, the father of offensive coordinator Scott Turner, was a big proponent of fullback usage throughout his coaching career. Perhaps he passed some of that infatuation down to his son.
Fullbacks might be a dying breed, but the 49ers and Kyle Juszczyk are living proof they can still be effective in a run-heavy offense.
While blocking is Armah's calling card, who's to say Washington doesn't get creative with him around the goal line and short-yardage situations? He notched a one-yard score for the Saints back in Week 8 and has three total in his career.
Washington struggled on third and short against Seattle, so Armah's presence in the backfield could help throw defense's a different look compared to the bland inside handoff to Gibson, McKissic or Jaret Patterson.
Like any practice squad addition, there's a chance Armah ends up not even appearing in a game for the Burgundy and Gold. However, his history with Rivera and experience as a blocker suggests he could play a role over the final five games.
Either way, expect a run-heavy approach from Washington down the stretch, because it's working in spades right now.