Washington Football Team: Landon Collins' explanation for Hail Mary disaster is embarrassing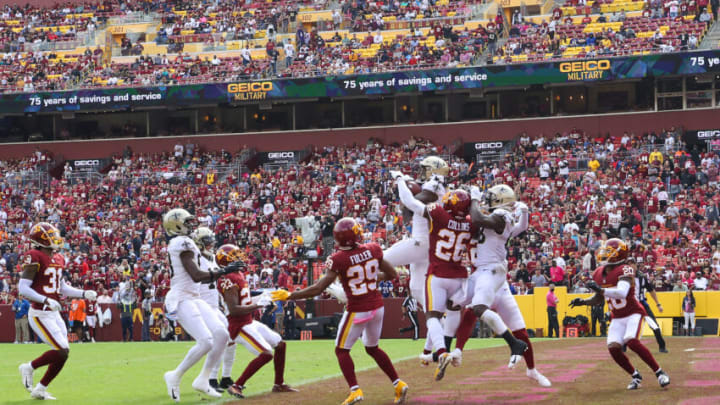 LANDOVER, MARYLAND - OCTOBER 10: Marquez Callaway #1 of the New Orleans Saints catches a hail mary pass for a touchdown during the first half against the Washington Football Team at FedExField on October 10, 2021 in Landover, Maryland. (Photo by Rob Carr/Getty Images) /
We're tired of sounding so dejected after games, but that's simply the reality of things regarding the Washington Football Team. Even their Week 4 win over Atlanta left a bitter taste in our mouth, and most fans likely felt the same way.
Let's call it like it is. This season has been a train wreck for Washington, a team many expected to repeat as NFC East champs heading into the season. Right now, though, they have a better chance of finishing last in the division than they do coming in first. That's not up for debate. Have you seen Dallas play?
The disappointment continued into Week 5, which really felt like a culmination of Washington's season so far. More breakdowns in the secondary. Letting a previously toothless offense to impersonate The Greatest Show on Turf.
The game was full of lowlights for Washington's defense, but the undisputed low point of the campaign came in the waning moments of the first half when the Saints pulled a 49-yard Hail Mary out of their hat.
The secondary offered little resistance on the play, which forced fans to question whether they were even prepared for the heave.
As it turns out, they weren't. Check out what Landon Collins had to say about to play … but have a bucket nearby, because it's vomit-inducing.
Washington somehow wasn't ready for New Orleans to attempt a Hail Mary to end the first half.
Let it be known that we aren't calling Landon Collins' explanation embarrassing. It's an embarrassing look for the coaching staff. We know fans rallied behind Ron Rivera amid his battle with and eventual triumph over cancer, but the second-year head coach hasn't covered himself in glory of late.
We gave Rivera the benefit of the doubt early on. After all, how much blame could you put on a head coach's shoulders if his players continue to fall flat on their faces? Unfortunately for Rivera, we are out of excuses, especially since he insists on deploying the same players in the secondary.
Getting back to the easiest Hail Mary completion these eyes have ever seen, how did Rivera and Co. not enlighten their players of a potential deep shot to the end zone?
For starters, the Saints are without Wil Lutz, their Pro Bowl kicker. Why would they run the risk of taking a ridiculously long field goal with a backup in Cody Parkey who finished 3-for-5 on extra-points?
At the very least, Rivera and his staff should've had the defense ready for both scenarios. As soon as New Orleans lined up in shotgun formation, the entire secondary should've went into prevent defense. Instead, they played press man coverage and scrambled to reach the end zone before the pigskin landed.
By the time it landed, half of the secondary was out of position and those that were in a position to make a play — Collins, Kendall Fuller, Bobby McCain and Benjamin St-Juste — put forth a half-hearted effort to break it up. They either miss-timed their jumps or didn't jump at all. Embarrassing.
https://twitter.com/NFL/status/1447271540362387463?ref_src=twsrc%5Etfw%7Ctwcamp%5Etweetembed%7Ctwterm%5E1447271540362387463%7Ctwgr%5E%7Ctwcon%5Es1_&ref_url=https%3A%2F%2Fwww.nbcsports.com%2Fwashington%2Ffootball-team%2Fwashington-may-have-given-easiest-hail-mary-ever-saints
There's a reason these types of passes are called Hail Mary's, folks. They happen no more than three times per season, at the absolute maximum. Per NextGen Stats, this particular pass had a 9.9% completion probability. These are considered miracles when they're completed, and Washington made it look effortless.
Seriously, we'd argue that some of Terry McLaurin's receptions this year have been more difficult than that Hail Mary.
We still believe that Rivera is the right guy for the job. However, the fact Collins threw him under the bus is a terrible look for both Rivera and his staff. The only question worth asking now is whether it gets cleaned up.