Washington Football Team: Ron Rivera must make changes in secondary after Week 5 defeat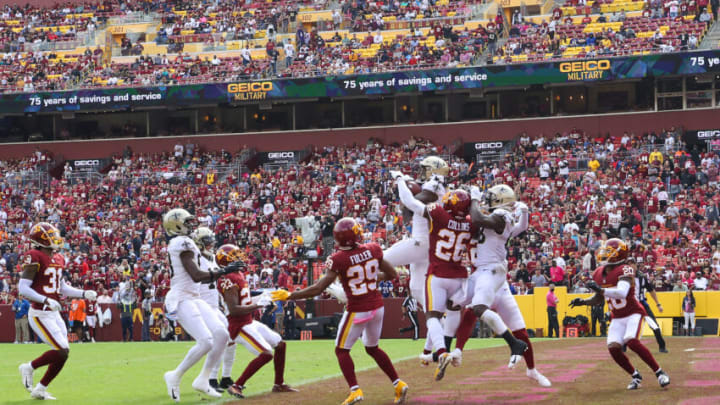 LANDOVER, MARYLAND - OCTOBER 10: Marquez Callaway #1 of the New Orleans Saints catches a hail mary pass for a touchdown during the first half against the Washington Football Team at FedExField on October 10, 2021 in Landover, Maryland. (Photo by Rob Carr/Getty Images) /
Facing a must-win game before they hit the murderers row portion of their schedule, the Washington Football Team laid an egg against the Saints. With Kansas City on deck in Week 6, they could fill a whole nest by this time next week.
While the offense was abysmal and Taylor Heinicke delivered his worst performance to date, the story of the game once again centered on the defense. Leave it to Washington to breath life into a previously anemic Saints offense.
When the dust settled, Washington allowed Jameis Winston to throw for a season-high 279 yards and four touchdowns. To defend the defense (that sounded weird), they actually held up well aside from a few breakdowns.
However, the breakdowns were once again back-breaking. The fact they're even still happening is concerning by itself — we're FIVE weeks into the season — and proves that Ron Rivera should make changes in Week 6.
The Washington Football Team must make changes in the secondary after their Week 5 loss.
Landon Collins was far from the only culprit on Sunday, but we'll start with him. What exactly has the $84 million safety done to maintain his starting role? He was nowhere to be found on Deonte Harris' 72-yard touchdown, offering no help over the top. When he realized what was going on, it was too late.
If Ron Rivera is running a so-called meritocracy, Collins shouldn't be starting at safety when Patrick Mahomes and the Chiefs come to town next Sunday. Like countless Washington fans proclaimed with their Twitter fingers, FREE Deshazor Everett!
Next up on the roast list is Bobby McCain, who, based on the regrettable fashion in which he addressed the media this week, would like to know what reporters will be writing about this week. That would be another loss that you very much contributed to! Seriously, what does McCain do "well"? It's definitely not tackling, because he whiffed big time on Alvin Kamara's 23-yard touchdown in the second quarter.
Can we see more of Kamren Curl, please? Is that too much to ask?
And finally, we get to William Jackson. Is it fair to call this a bust signing so far for Washington? Because Jackson's four games since his promising debut in Week 1 when he recorded an interception have been a disaster.
On top of laying an incredibly dirty hit on Taysom Hill that knocked the Saints' QB out of the game with a concussion, Jackson got burned on two New Orleans touchdowns, including the bomb to Harris and the 12-yarder to Marquez Callaway that put Washington in a 27-16 hole early in the fourth quarter.
Jackson looked confused on both scoring plays, so there might have been a miscommunication of some sort, but we're done making excuses at this point. Jackson was also standing and watching away from the pile while Callaway hauled in the the easiest Hail Mary completion of all time to end the first half.
We know Washington paid good money to sign Jackson in the offseason, but he's a big-play touchdown waiting to happen. The $42 million corner should be stripped of his starting job, effective immediately.
If Rivera wants different results, he has to send a message that mediocrity will not be tolerated. If we see the same starting 11 against the Chiefs in Week 6, well, let's just hope we don't even reach that point.