Washington Football Team: Reality Checks for Week 2 vs Giants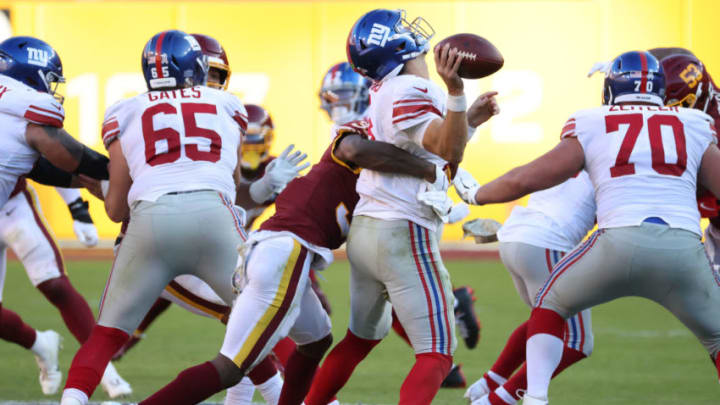 Nov 8, 2020; Landover, Maryland, USA; New York Giants quarterback Daniel Jones (8) is sacked by Washington Football Team safety Kamren Curl (31) in the fourth quarter at FedExField. Mandatory Credit: Geoff Burke-USA TODAY Sports /
It was Week 1. Nobody should overreact to a single game at the beginning of the season. It's a long (and even longer now than ever before) season, and the Giants and Cowboys lost too, etc, etc, etc, blah, blah, blah.
The Reality Is, Washington choked away a prime opportunity for a momentum-building home win on Sunday. They had a buzzing home crowd, a visiting team from the west coast, and even a lead in the 4th quarter. But the offensive line struggled mightily and got Ryan Fitzpatrick hurt. The defensive line couldn't get consistent pressure on Justin Herbert. The soft zone Jack Del Rio employed was too soft.
Jon Bostic got lost in coverage on multiple key 3rd downs. Antonio Gibson fumbled on his own two-yard line. The offense failed to manufacture a single target for Terry McLaurin in the first quarter and ended up only getting him four targets which he converted into 4 receptions. Ron Rivera played it way too safe on a late fourth down from plus territory. Their All-Pro guard had two costly penalties.
The list of miscues is long. The time to make adjustments prior to an early-season divisional game that feels a bit like a must-win is very short. With the Giants coming to town on Thursday for the only divisional game Washington will play before December, Ron Rivera needs to make quick work in the film room and the team needs to make some key adjustments, or this season is going to be in the dumpster before it is even 5 days old.
While losing your starting quarterback would be the biggest story for almost any NFL team with visions of playoff contention, it likely takes second position this week given the relative similarity between Taylor Heinicke and Ryan Fitzpatrick's skillsets.
The biggest story coming out of this game is how invisible the Washington front seven was on Sunday against the Chargers.
The Chargers went 14-of-18 on meaningful 3rd downs on Sunday against what is supposed to be an excellent Washington Football defense. If Washington can't get opposing offenses off the field on 3rd down, it won't matter who's playing quarterback.
But, as many bad things that happened on Sunday, it's only one game. A glance around the league-wide scoreboard will remind Washington Football Team fans it's not as bad as it could be. At least WFT was in a close game against a good team. They could have gotten blown out like the Titans and Packers, or beaten by a bad team, like what happened to Minnesota.
Washington needs to turn the page quickly and clean up the sloppy mistakes to make a better showing Thursday night against New York. Here are the Week 2 Reality Checks for your Washington Football Team: