Washington Football Team: Reality Checks for Week 2 vs Giants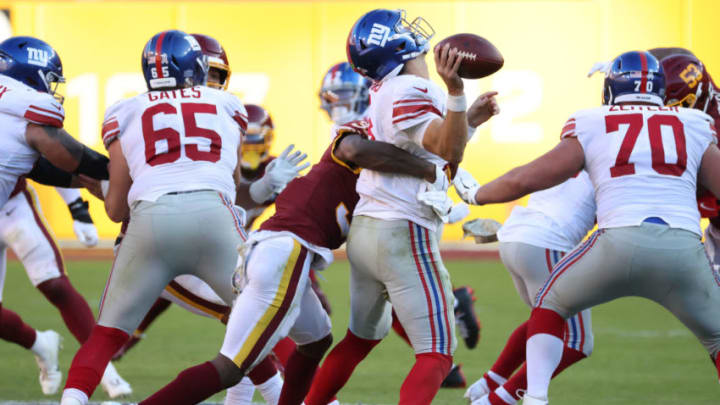 Nov 8, 2020; Landover, Maryland, USA; New York Giants quarterback Daniel Jones (8) is sacked by Washington Football Team safety Kamren Curl (31) in the fourth quarter at FedExField. Mandatory Credit: Geoff Burke-USA TODAY Sports /
Sep 12, 2021; Landover, Maryland, USA; Los Angeles Chargers wide receiver Keenan Allen (13) runs with the ball as Washington Football Team linebacker Jon Bostic (53) chases in the second quarter at FedExField. Mandatory Credit: Geoff Burke-USA TODAY Sports /
5. The Reality Is, Jamin Davis has to provide more than Jon Bostic.
Jon Bostic seems like a great guy. The coaches seem to love him, his teammates seem to respect him. But the film doesn't lie. He's just not an asset on the field for this team. He's completely lost in coverage and he's not appreciably better against the run. For all his "command of the defense", he just doesn't get himself in position to make impact plays. At least 3 times on key 3rd downs, Bostic dropped into coverage and drifted woefully out of position.
Look at the No. 53 in this recreation of that same play….if this doesn't get you benched, what would? And while we're at it, what, exactly, is Landon Collins (No. 20) doing?
Inevitably, Jamin Davis will have growing pains…but Bostic is a known quantity at this point…and he comes up short. Davis may get exposed because of his inexperience. Bostic WILL get exposed because of his mediocrity. Davis and Cole Holcomb should get the vast majority of the LB snaps the reminder of this season.
Prediction: Jack Del Rio and Ron Rivera will keep giving Bostic chances because of his veteran status, but sooner rather than later, they'll realize there's no future in continuing to start Bostic.