Washington Football Team: A Memorial Day remembrance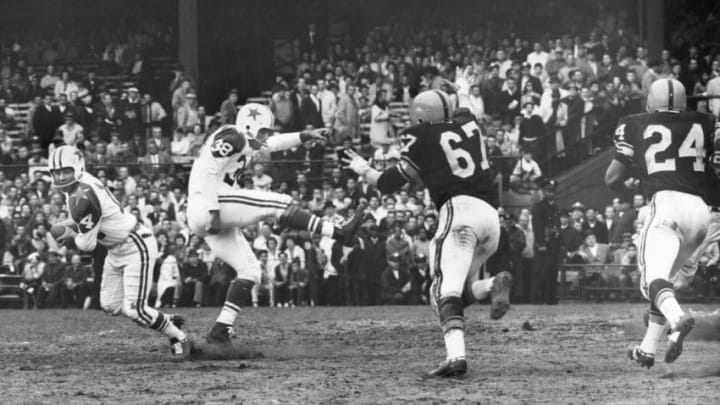 PITTSBURGH - OCTOBER 21: Eddie LeBaron #14 of the Dallas Cowboys rolls out on a fake punt executed by Sam Baker #38 against Bob Schmitz #67 and Johnny Sample #24 of the Pittsburgh Steelers during the game at Pitt Stadium on October 21, 1962 in Pittsburgh, Pennsylvania. (Photo by Robert Riger/Getty Images) /
Washington Football Team helmet. (Photo by Rob Carr/Getty Images) /
WFT Players in the Military, Part One
John Steber
Mobile, Alabama's John Steber enlisted in the United States Navy and served more than three years during World War II.  The Navy Lieutenant played college football for Vanderbilt and Georgia Tech.  After the war, he joined the Washington Football Team for five seasons as an offensive and defensive lineman.  He returned to duty in 1951 and served in Korea.  We lost Lt. Steber in 1975 at the age of 52.  Fair Winds and Following Seas, Mr. Steber.  Your shipmates have the watch.
Joe Bartos
Joe Bartos attended the Naval Academy and played nine games for Washington in 1950.  He didn't see action in World War II, but he was a Midshipman at that time.  Bartos was called up for duty in Korea as a Marine and earned a Silver Star for his bravery in protecting a strategic location from falling into enemy hands.  He passed away in 1989.  Semper Fidelis, Mr. Bartos.  Once a Marine, Always a Marine.
Keith Birlem
Keith Birlem was with the Washington Football Team for three games in 1939.  He was called to service in the Army Air Corps in World War II as a bomber pilot.  Major Birlem was flying a B-29 that was badly damaged in combat on May 7, 1943.  As he attempted to land in Polebrook, England, the aircraft was difficult to handle and it crashed into another bomber.  All 20 men in both bombers were killed.  Hooah, Major Birlem.  This We'll Defend.