Washington Football Team signs QB Ryan Fitzpatrick to one-year deal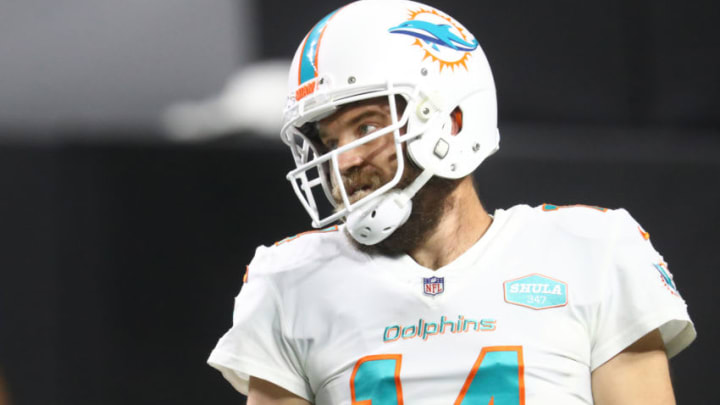 Miami Dolphins QB Ryan Fitzpatrick. Mandatory Credit: Mark J. Rebilas-USA TODAY Sports /
The Washington Football Team was expected to add a veteran quarterback this offseason. With the team armed with the 19th pick in the draft and no guarantee that one of the top five passers in the class would be available, they needed to have some sort of stopgap available to compete with Kyle Allen and Taylor Heinicke.
Now, they have exactly that.
According to ESPN's Adam Schefter, the Washington Football Team reached a deal with Ryan Fitzpatrick. The 39-year-old will make up to $12 million on a one-year contract.
Obviously, it's noteworthy that Schefter pointed out that Fitzpatrick is the starter but that his main competition is Heinicke. That means that the team does hold Heinicke in high regard after his performance last year. The sample size was too small not to bring in some potential help, but they will give the young quarterback a chance to compete.
The Ryan Fitzpatrick deal seems like a smart one for the Washington Football Team.
He can serve as the needed stopgap for the team and he won't break the bank. He doesn't have a lot of upside at this point in his career, but he can be a capable starter as he has proven over the course of his NFL journey. He'll add a reliable veteran and mentor to the quarterback room as well.
There's no downside to this deal since it's only a one-year pact. If Fitzpatrick struggles in 2021, Washington can just move on from him during the offseason. But he's a great insurance policy and should end up being the starter unless one of the team's young quarterbacks steps up into a bigger role this offseason.
Fitzpatrick's presence also won't necessarily prevent Washington from drafting a quarterback if a player that they like is available. What it does mean is that the team won't have to feel pressured to add a player early. They can take the best player available approach that Ron Rivera and Marty Hurney have liked to run over the years, so that will give them a chance to land a high-impact player in Round 1 — provided that a top quarterback isn't on the board.
No matter how you look at it, signing Fitzpatrick is a solid move. It's not a long-term solution to the team's quarterback problems, but it at least gives them another potential starting option for 2021. And with little experience in the quarterback room after the release of Alex Smith, that was something the team sorely needed.