Redskins name change statement another step in an ongoing saga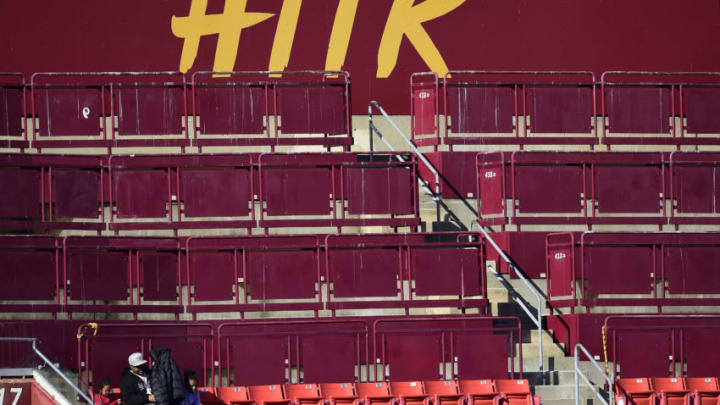 LANDOVER, MD - NOVEMBER 24: Fans sit in the stands during the first half of a game between the Detroit Lions and Washington Redskins at FedExField on November 24, 2019 in Landover, Maryland. (Photo by Patrick McDermott/Getty Images) /
The Redskins name is being retired, but there's still a long way to go for this franchise.
The expected statement on the fate of the Redskins name was made and after years of public battles, owner Daniel Snyder finally bent the knee.
""On July 3rd, we announced the commencement of a thorough review of the team's name. That review has begun in earnest. As part of this process, we want to keep our sponsors, fans and community apprised of our thinking as we go forward.Today we are announcing we will be retiring the Redskins name and logo upon completion of this review.Dan Snyder and Coach Rivera are working closely to develop a new name and design approach that will enhance the standing of our proud, tradition rich franchise and inspire our sponsors, fans and community for the next 100 years.""
This is how the name "Redskins" passed into history on Monday, July 13, 2020. It came in the form of a tweet from the team's official Twitter account, a fact which in and of itself is enough to make fans of a certain age shake their heads at the way their world has changed. Dan Snyder is referenced but was nowhere to be seen. When you make pronouncements via Twitter, you are never there to be seen.
What's most interesting about this short statement – exactly one hundred words, as though this was a fifth-grade writing assignment and the student knew exactly what the grading rubric required – is what it does not say. It does not offer even a hint of a rationale for the decision.
Of course, it seems quite clear what that rationale is.
The primary reason for the name change should be that the term "Redskins" is an offensive racial slur and needed to be changed long ago. However, the primary reason for this pivot is that the team's corporate sponsors began to seriously threaten Dan Snyder's bank account.
More from Commanders News
Just as in 1961, when the federal government used economic pressure to force owner George Preston Marshall to finally integrate, it took the combined efforts of FedEx, Pepsi, and Nike to precipitate something that owner Daniel Snyder swore would never happen.
The most telling thing actually included in the team's statement is the fact that "sponsors" precede "fans" both times outside interests are referenced. There is a level of honesty in that to be admired.
But again, even more important is the fact that no explanation is offered.
When I first read this, I immediately concluded that had there been a statement about the racial slur, it would have been an admission that Daniel Snyder was wrong. He has always claimed that in this context, the term was never intended as a slur. And that is correct. After all, why would a sports team intentionally choose a derogatory term as its nickname?
But that was never the point. The intentions of outsiders carry no weight if an affected group feels slighted by the outsider's actions. Daniel Snyder could have said that he had changed his mind after being educated further about the issue.
But I suspect such an admission would not have gone over well with either side in this debate. Defender of the name or not, would you have believed him? Or would you have just assumed, as I sense most do, that he was merely bowing to insurmountable economic pressure?
After listening to a number of fans and commentators yesterday, I now see the statement differently. I have heard from more than half a dozen people that when the team scores its first touchdown of 2020, they intend to belt out a rousing rendition of "Hail to the Redskins."
I have also heard questions raised about what the franchise will do when fans wear Redskins gear — jerseys, t-shirts, caps, and other logoed merchandise — into FedEx Field. It will be virtually impossible to police this.
Had the team explained that it was moving on from the name because it had come to understand the term's hurtful nature, not only would it have been an admission of being wrong in the past, it would have also required action in the present.
If the team admitted the offensiveness of the term, then it could never allow the term to be uttered or displayed by fans in the stands during games. I suspect as the Twitter statement moved through various drafts and various lawyer's offices, this became the defining reality.
No team wants its fanbase to reject a new name, and it will take many years for a sizeable portion of this fanbase to accept whatever the new name turns out to be. There will be a period of transition – a long period, I suspect – during which "Hail to the Redskins" will be sung and the old Redskin logo will be on full display on the cars and the shirts that come to FedEx.
It will be an uneasy truce, but hopefully, it never results in anything more than a shake of the head as two factions of fans try to re-form into a unified group.
I suspect Daniel Snyder will go to his grave believing he was right in maintaining the name for so long. Upon George Preston Marshall's death, the terms of his will made it apparent to everyone that though he had been forced to integrate his team, he never had a change of heart. He left a generous bequest to charities addressing child welfare, with the stipulation that none of said charities could promote racial integration.
The name change saga of the Washington Redskins football team has not ended. It has merely turned a page. There is still a lot of work to do. The Redskin statement yesterday suggests just how much of the tightrope still remains to be traversed.