Analyzing the roots of the Redskins name, and its implications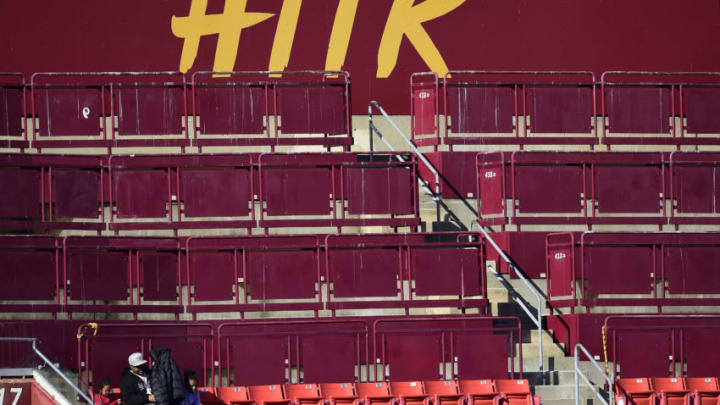 LANDOVER, MD - NOVEMBER 24: Fans sit in the stands during the first half of a game between the Detroit Lions and Washington Redskins at FedExField on November 24, 2019 in Landover, Maryland. (Photo by Patrick McDermott/Getty Images) /
LANDOVER, MD – NOVEMBER 24: Fans sit in the stands during the first half of a game between the Detroit Lions and Washington Redskins at FedExField on November 24, 2019 in Landover, Maryland. (Photo by Patrick McDermott/Getty Images) /
A message to Redskins fans
There was a comment on a piece of mine recently that I'd like to respond to, not because I wish to engage in any argument, but because I want to offer my perspective publicly, as I feel that it may hopefully have value.
"Ian, when will you change your name?"
I understand the argument that's being made here — some feel that "political correctness" has gone too far in modern society — but there's a very big difference between a name, like Ian, and a term that was once a racial slur, like "Redskins".
That may no longer be its primary function in the eyes of some, but that history is deeply rooted, and to some Native Americans, the term continues to inflict damage. Words are not being targeted at random. The Redskins name has been a subject of controversy for a long time. This movement to change the name is not the resultant of an over-sensitive society, but instead the culmination of a decades-long discussion, and the precipitant of a complex oral history.
If a term has a history of being a slur, and if groups of people feel disrespected and dehumanized by its perpetuation, shouldn't the decision to keep or remove the name be an easy one to make? To sacrifice continuity and tradition for the ensured sanctity of equal human value? To sacrifice a name for the comfort of a fellow American?
I understand how Redskins fans may feel as if they're under attack in the wake of this movement. Fans, in some cases, have been invested in the Redskins for decades, building strong emotional bonds. A fan's support of the Redskins is in no way a cause for others to make character judgements. A Redskins fan's experience is unique, and in a way, it can help them better relate to those who take offense to the team name.
As a Redskins fan, likely from an early age, you assigned a meaning to the term "Redskins" based on your unique, individual experiences with the term — experiences that likely carry a predominant relation to the sports team. These experiences endeared the team to you, helped you develop friendships, formed stronger familial relations, and became a large part of your life.
No one else forged that meaning for you; others may have played a hand in introducing you to the team and emboldening the message, but it was ultimately your mind that made the connections which now pervade in your perspective.
Can the meaning of a word change for the better, just as it was changed for worse? Perhaps. But that's not a change anyone can judiciously impose on Native Americans who oppose the word. No one can tell a Native American, "this name is meant to honor you", when they may not glean honor from their unique, irreplaceable experiences with the word. It's important, in the face of emotionally-charged anger, to understand that.
One Native American may look at the logo, and see a world that has unceremoniously passed them by, and continues to exploit their image, eroding at their history until nothing is left but a shell. And as long as this perception exists in one, there is a reason to change the name.
As long as it exists.