Analyzing the roots of the Redskins name, and its implications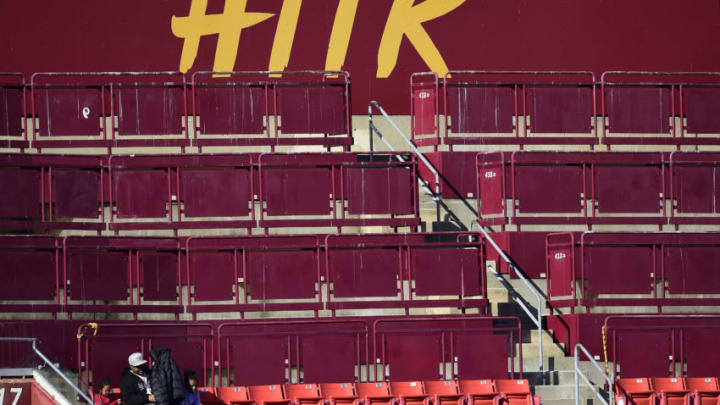 LANDOVER, MD - NOVEMBER 24: Fans sit in the stands during the first half of a game between the Detroit Lions and Washington Redskins at FedExField on November 24, 2019 in Landover, Maryland. (Photo by Patrick McDermott/Getty Images) /
GREEN BAY, WISCONSIN – DECEMBER 08: Protestors rally outside of Lambeau Field prior to the game between the Green Bay Packers and the Washington Redskins on December 08, 2019 in Green Bay, Wisconsin. (Photo by Stacy Revere/Getty Images) /
The meaning of the term today
There has always been measured resistance to the team name "Redskins". Since 1940, the National Congress of American Indians (NCAI) has been fighting to end the use of such mascots in professional sports.
The intentional derogatory use of the term "Redskins" has since faded, but the history of the word, and its ties to the deterioration of the Native American population, is still very much on the forefront in today's social climate.
The meaning of the term "Redskins" is ultimately subjective on an individual level, even among Native Americans — some find value in simply being represented, by a logo that appears stoic and respectful. But it cannot be denied that the specific term in question was, at one time, used en mass in a disparaging manner, and was in a way representative of the dehumanization of Native Americans amidst United States expansion efforts.
Given the term's history, it's not up to one individual to decide whether the term "Redskins" is offensive or not, and as much as Redskins fans might want to, it is impossible to speak for the Native American community as a whole on this issue.
The Native American community is not in consensus on the issue of the Redskins name, but a meaningful portion does find the name offensive. Dozens of tribes have officially resolved against the name, and various other organizations have also followed suit.
Sample size is an issue when searching for opinions on both sides of the issue. The list of tribes linked above does not come close to encompassing the entire North American native population, but a widely-referenced survey from the Washington Post back in 2016, asserting that 9 out of 10 Native Americans accepted the name, only polled 504 people.
The voice of the Native American nation has faded as the population has dwindled, but the Native American community is the only group with the inherent authority to make a decision on the Redskins name. Since the term was originally directed at them, they have the right to determine whether or not it is acceptable in today's context.
Some Native Americans may not have an issue with the term, and some even regard it with positive emotions. But some Native Americans conversely view the name as derogatory, and that alone is enough to warrant a change — to seek out a name that all can cherish, and not only some.