Washington Redskins fans finally have a reason to be hopeful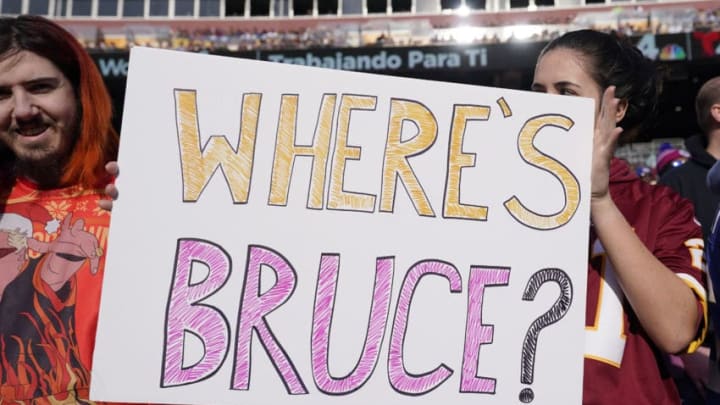 LANDOVER, MD - DECEMBER 22: A fan holds a sign for Washington Redskins team president Bruce Allen in the first half during a game against the New York Giants at FedExField on December 22, 2019 in Landover, Maryland. (Photo by Patrick McDermott/Getty Images) /
Bruce Allen Redskins /
How we got here
Over the past decade, the Redskins have fallen on some of their toughest times in team history.  It is widely believed that the two biggest reasons for this decent are Bruce Allen and Daniel Snyder.
For the sake of this article, and giving Snyder the benefit of the doubt, let us take a look at the 10 years that Allen was in charge.
If the word "trainwreck" had a picture beside it in the dictionary, Bruce Allen's picture would surely be there. While he is not the only reason for this collapse, he is certainly the biggest one. During the 10 years that Allen was in charge, the Redskins were the owners of the fifth-worst record in football. They went 62-94-1, for an abysmal .398 winning percentage. During this time, Allen made so many mistakes, that listing them all would require many hours to finish.
More from Commanders News
The final slap in the face to 'Skins fans would be brought to light after Allen was finally fired.  In an article written by our own Jacob Camenker, the details of this mistake are highlighted.
It turns out that after costing us our best player, left tackle Trent Williams, for the entire 2019 season, Allen reportedly turned down a trade that involved receiving a first-round pick for the star left tackle. This would later turn in picks at a much lower-rated value (a 2020 fifth-round pick that became center Keith Ismael and a 2021 third-round pick). This type of mismanagement was all too common during Allen's tenure.
All of this lead to a breaking point for Redskins' fans last year.  After so many years of dysfunction, coupled with their home field being filled with opposing team's fans week in and week out, many life-long fans did the unthinkable and started making the switch to support their purple and black rivals located just minutes down I-95.  In an article, by The Washington Post, the details of this mass exodus were laid out.