Report: Redskins could fire Jay Gruden if Washington loses to Giants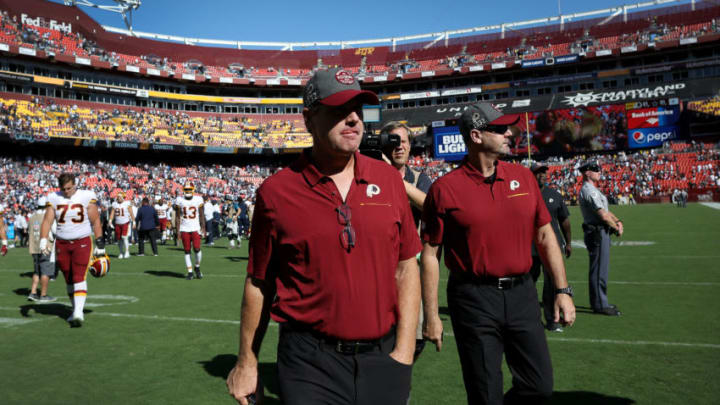 LANDOVER, MARYLAND - SEPTEMBER 15: Washington Redskins Head Coach Jay Gruden leaves the field following a loss against the Dallas Cowboys at FedExField on September 15, 2019 in Landover, Maryland. The Cowboys won the game 31-21. (Photo by Win McNamee/Getty Images) /
It's the code red game to end all code red games for the Washington Redskins.
Conditions were tense, to say the least, after the Washington Redskins 15-31 loss to the Chicago Bears on Monday Night Football. The franchise has been no stranger to embarrassing losses in recent years, but this loss, both due to its nature, and the sheer volume of mediocrity which came before it, had a stronger impact.
Reports came out the day after the loss, detailing an explosive situation at Redskins Park, in which even a small provocation could lead to a change in the coaching department. Now, we have more reports confirming the precariousness of Washington's coaching structure, as the team prepares for the New York Giants.
In a recent article for the Washington Post, columnist Les Carpenter said this about Gruden's job security: "Two people with knowledge of the situation say Gruden could be fired if Washington doesn't beat the New York Giants on Sunday". This had been implied in previous reports, but now it's almost official: Jay Gruden is coaching for his job on Sunday.
Talk to Gruden, however, and you wouldn't be able to tell. In the same article, Gruden is documented as being "strangely optimistic" about his team's chances to rebound from their 3-0 start. In one quote, Gruden said "If they said you won trophies in September, we'd be in trouble. But trophies are not won at this time. Trophies are won in December-January".
This is true, in a sense. But if the Redskins are 2-11 by December, then they won't be winning any trophies. And Gruden certainly would no longer be the coach. Gruden has often been criticized for lacking a sense of urgency in crucial situations. And now, he's seems as relaxed as he's always been. If he's letting the reports of his impending doom get under his skin, he isn't showing it.
For now, Gruden still has the reins, and he has time yet to prepare for the Giants game. But if the Redskins put up another uninspiring performance and fall to 0-4, it's hard to imagine Gruden gets past that juncture. A changing of the guard could be on the horizon.