Washington Redskins: Which cornerbacks are worth the No. 13 pick?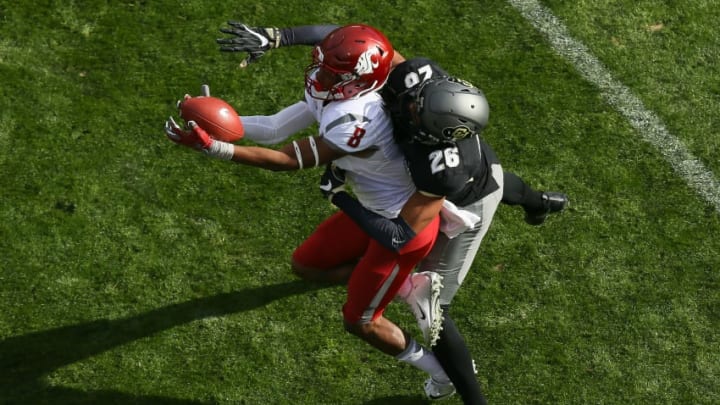 BOULDER, CO - NOVEMBER 19: Defensive back Isaiah Oliver #26 of the Colorado Buffaloes is called for pass interference on a pass intended for wide receiver Tavares Martin Jr. #8 of the Washington State Cougars during the first quarter at Folsom Field on November 19, 2016 in Boulder, Colorado. (Photo by Justin Edmonds/Getty Images) /
Denzel Ward – Ohio State
The Washington Redskins need a slot cornerback. And if they choose to address that need at No. 13, Ohio State's Denzel Ward would be an almost perfect pick.
Ward is another player like Hughes and Jackson, in the sense that he only has one year of considerable production to boast about. But Ward is different from these cornerbacks in several ways.
Ward has outstanding athleticism and quickness. He is the most fluid mover in this cornerback draft class. He might not be the unanimous Rookie of the Year like his former team mate, Marshon Lattimore, but as I said in my NFL Mock Draft 4.0, Ward has the potential to be just as good.
"Everyone will agree that Ward isn't as dominant as Marshon Lattimore was, but he is very good, nonetheless. He had a very solid season with the Buckeyes, showing off is physical play style and flawless fundamentals. He almost never lets the receiver beat him at the line, and while he is undersized at 5-foot-10, he makes up for that measurement with his long arms, which he uses to disrupt the rhythm of the receiver and make plays on the ball."
Ward's size and quickness makes him a very good match for the slot cornerback position, and while he might not have as much production as a guy like Josh Jackson, he's a player that can come in and start on day one.
Verdict: Worth the No. 13 pick
My Grade for Jackson: Round 1
Next: 5 prospects to avoid in the first round for the Redskins
If the Washington Redskins decide to pick a cornerback at No. 13, we now know that Josh Jackson and Denzel Ward could be worth the price of admission, provided the right circumstances materialize. But what about other positions? Defensive line? Wide receiver? We'll get to that. Be sure to stay with Riggo's Rag, as we'll continue to provide you with top-notch draft content as the NFL Combine approaches.