Washington Redskins: Which cornerbacks are worth the No. 13 pick?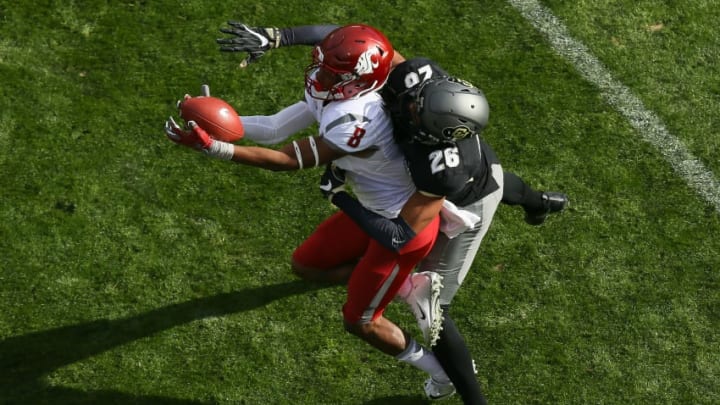 BOULDER, CO - NOVEMBER 19: Defensive back Isaiah Oliver #26 of the Colorado Buffaloes is called for pass interference on a pass intended for wide receiver Tavares Martin Jr. #8 of the Washington State Cougars during the first quarter at Folsom Field on November 19, 2016 in Boulder, Colorado. (Photo by Justin Edmonds/Getty Images) /
Josh Jackson – Iowa
To some, Josh Jackson is the best cornerback in this draft class, and with good reason.
At 6-foot-1, 192, Jackson has the size and length to dominate the position, and that's just what he did in his final year with the Iowa Hawkeyes. He nabbed eight interceptions and deflected eighteen more passes, being named as the Big Ten Defensive Player of the Year, as well as being named as a finalist for the Thorpe Award.
In Jackson's game, it's hard to find a resounding flaw that could keep him from succeeding in the NFL. He has very good length, and his instincts are obvious. His skills tracking the football are unmatched in this draft class, and with these skills, he makes plays at a premium. He plays with physicality, and he takes calculated risks, showing a high football IQ and a desire to help his team.
Jackson doesn't have great agility, but this wasn't a huge problem for him in college (the stats show this well). However, Jackson may have trouble with the cream of the crop in the NFL.
His lack of experience is also notable. Like Mike Hughes, Jackson only has one year of solid production, and the discrepancy between this year and last is fairly large for the Iowa defensive back. For this reason, some scouts are hesitant to commit to him as a mid-range first-round pick. But Bleacher Report's Matt Miller is sold on the former Hawkeye.
You can watch the tape, and make your own opinions. But if Bashaud Breeland leaves, the Washington Redskins will need another ball-hawking cornerback to help solidify the position. If the right players are gone at No. 13, the Washington Redskins selection of Jackson could be validated.
Verdict: Worth the No. 13 pick (Trading down preferred)
My Grade for Jackson: Round 1