Commanders' Curtis Samuel joined elite WR company after touchdown vs Texans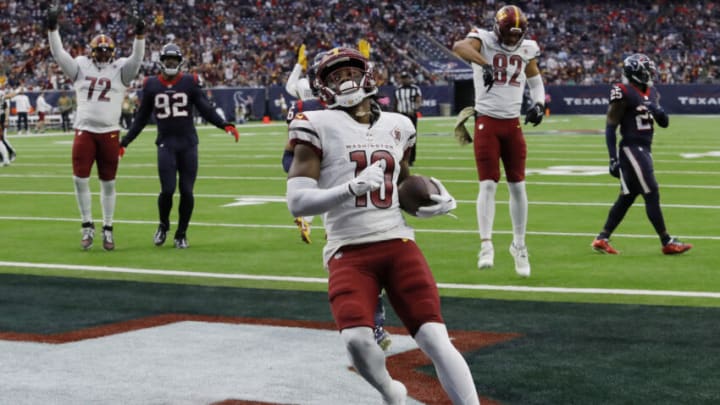 HOUSTON, TEXAS - NOVEMBER 20: Curtis Samuel #10 of the Washington Commanders scores a rushing touchdown in the second quarter of a game against the Houston Texans at NRG Stadium on November 20, 2022 in Houston, Texas. (Photo by Bob Levey/Getty Images) /
The Washington Commanders' offense took a step back in Week 11 after they scored 26 points against the Eagles. When the dust settled, Washington needed just one offensive touchdown — a rushing score from Curtis Samuel — to coast to a double-digit victory after Kendall Fuller's pick-six put them up early.
In the second quarter, Samuel capped a nine-play 85-yard drive with a 10-yard rushing touchdown to give the Commanders a 14-0 lead. It marked Samuel's first rushing score of the season and the wideout is now tied with Jahan Dotson for second on the team (behind Antonio Gibson) with four touchdowns.
Samuel cooled down after a roaring start to the season, but he seemingly makes a handful of plays every week. After going six consecutive games without finding the end zone — he had two touchdowns in the first four games — Samuel now has two touchdowns over his last three games after Sunday's win.
A healthy Samuel has been a revelation for Washington's offense, and the dynamic playmaker joined elite WR company with his latest score.
According to NFL Research, Samuel became the fourth receiver in the Super Bowl era with 2,500 or more receiving yards, 15-plus receiving touchdowns, 600 rushing yards and six rushing touchdowns in a career.
The others? Jerry Rice, the greatest receiver of all-time, Tyreek Hill, a potential future Hall of Famer, and Eric Metcalf.
Commanders star Curtis Samuel joined elite WR company with his touchdown against the Texans.
Metcalf might not be a household name like Rice or Hill, but he made three Pro Bowls and was a two-time All-Pro during his playing career. The former Texas Longhorn even played in Washington in his second-to-last season in 2001.
This is some impressive company for Samuel, whose production has fluctuated with Terry McLaurin becoming Taylor Heinicke's preferred target. Despite that, he proved with his touchdown that he's one of Washington's most important weapons on offense. Hopefully Scott Turner finds more ways to get him the ball in the future because few players boast his ability to make defenders miss.
Just ask Heinicke, who raved about Samuel postgame.
""Give that guy the ball, special things happen. You see it today, especially in short-yardage situations, when you give him the ball, you have a lot of confidence he'll get at least that 1 yard. …He's an exciting player to have on your team.""
Samuel certainly looked like a natural on that handoff. After the game, the speedy wideout caught up with NBC Sports Washington's JP Finlay, who asked about Samue's history as a running back before he switched to WR at Ohio State.
""A lot of people don't know this, but I played running back my whole life. I didn't really make the receiver switch until college. My freshman year at college, I played running back the whole year. If you go back and look at the stats, I didn't play receiver at all. . . . I'm a receiver, but at heart I'm a running back.""
Turner definitely shouldn't overkill Samuel's rushing attempts, but the offensive coordinator should make it a point of emphasis to get him more looks. On 24 carries this season, Samuel's totaled 152 yards on 6.2 yards per attempt.
Nevertheless, the fact Samuel can now be mentioned in the same sentence as Rice, Hill and Metcalf just emphasizes the fact that he's one of the NFL's most versatile playmakers, and the Commanders are lucky to have him.