Is Deshaun Watson most attainable superstar QB for Commanders?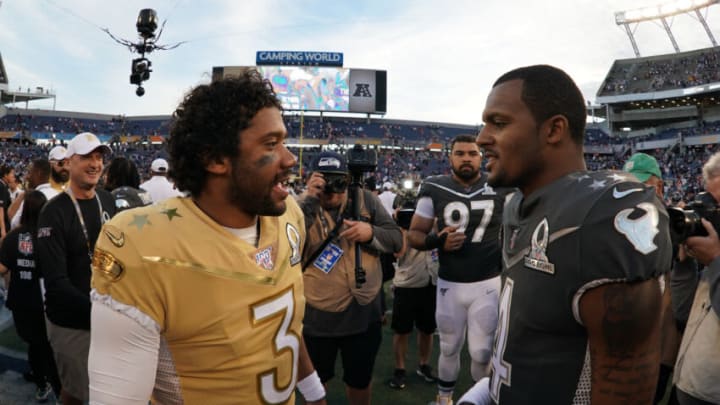 Jan 26, 2020; Orlando, Florida, USA; NFC quarterback Russell Wilson of the Seattle Seahawks (3) and AFC quarterback Deshaun Watson of the Houston Texans (4) talk after the 2020 NFL Pro Bowl at Camping World Stadium. The AFC defeated the NFC 38-33. Mandatory Credit: Kirby Lee-USA TODAY Sports /
The Washington Commanders entered the offseason with high hopes of solving their long-standing quarterback conundrum. As we move closer to the start of the new league year, though, those hopes are dwindling.
Not only is Aaron Rodgers not interested in joining Washington, but reports from the NFL Combine in Indianapolis over the weekend noted the Seahawks turned down a Commanders trade proposal for Russell Wilson.
In regards to the offer, terms like "strong" and "competitive" have been thrown around by reporters.
It's a pat-on-your-back worthy effort from Washington, but it feels eerily reminiscent of last offseason when the team swung and miss on Matthew Stafford, who wound up getting dealt to and winning a title with the Rams.
To rub salt in the wound, ESPN's Dan Graziano understands Wilson would be more "amenable to Denver than the NFC East."
With Wilson seemingly off the table, does this make Deshaun Watson the most attainable superstar for the Commanders?
Is Deshaun Watson the next order of business for the Commanders?
Let's fill everyone in on the latest rundown of rumors.
According to Aaron Wilson of Pro Football Network and formerly of the Houston Chronicle, the Commanders and Panthers are two teams to watch on the Watson front. ESPN's Jeremy Fowler and John Keim have also confirmed Washington's interest in trading for the three-time Pro Bowler.
Here's what Fowler had to say (subscription required).
"Washington general manager Martin Mayhew said his club has talked to any team that might have an available quarterback. I asked a team source about this and was told that's fair to take at face value — the Commanders are looking everywhere, from Russell Wilson to Deshaun Watson. Whether these discussions are formal or informal is unclear, but they are working hard on it."
Take that for what it's worth. With Watson's playing outlook for 2022 and beyond still murky amid his civil lawsuits, teams — unless you're the Dolphins, who have since dropped out of the running — aren't going to run the risk of being too closely connected to a trade for the former Clemson superstar.
We're not going to get much clarity on Washington's interest until Watson's legal situation gets resolved. That much is clear.
However, with Rodgers seeming hell-bent on either returning to Green Bay or switching conferences and Wilson not openly requesting a trade out of Seattle, Watson might be Washington's last hope for a star QB.
Derek Carr has been floated as a possibility for the Commanders, but the Raiders' new regime, spearheaded by longtime Patriots offensive coordinator Josh McDaniels, appears committed to extending and building around the 30-year-old.
With all that mind, this offseason feels like Watson or bust for Washington. Should his name get cleared and he becomes available for trade, it sounds like the Commanders so-called "interest" will ratchet up several notches.
We can only hope it reaches that point.