Commanders: The time for a bold move in Washington is right now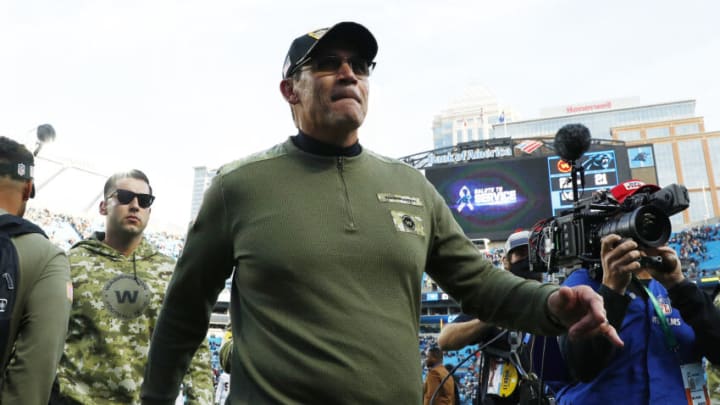 CHARLOTTE, NORTH CAROLINA - NOVEMBER 21: Head coach Ron Rivera of the Washington Football Team walks off the field after a 27-21 win over the Carolina Panthers at Bank of America Stadium on November 21, 2021 in Charlotte, North Carolina. (Photo by Jared C. Tilton/Getty Images) /
We are officially a month removed from the Washington Commanders' new name, logo, and uniform, and eyes are once again returning to what matters most: Football. With the Combine underway, and the NFL draft following suit in the not-so-distant future, Ron Rivera enters his third and undoubtedly most important season as coach in Washington.
The pressure to start winning is officially on the rise, and the search for a cure is entering its most crucial time. So, what's it going to cost?
That's the question of the hour for the Commanders. The search for a franchise quarterback has hit decade two, and the turning point for the future very well could start in the coming months. How that decision comes to be is yet to be seen, but we do know that it's time for a bold move, and that time is right now.
If you take about 30 seconds to look around the NFL, you'll notice a pattern at a specific position. Winning teams have top-tier play from the quarterback position. It's quite a simple math equation. Just watching this past lineup of playoff games, it was a master class display of the elite quarterbacks that make this league so great.
The Commanders need to make a bold move at QB this offseason.
Football is a game of the have and have-nots, and watching players like Joe Burrow, Josh Allen, Patrick Mahomes, and Matt Stafford put on a show in the playoffs felt like watching a Rolls Royce pass you by on the road. You couldn't help but ask yourself, "Gosh, wouldn't it be fun to have one of those?"
But a Rolls-Royce and a franchise quarterback both have something in common. They cost something. So the question is, what is Washington willing to pay?
The answer should be, whatever it takes. Because there has never been a more perfect time to take a shot at success than right now. Bringing in a veteran for a year, or drafting a player you do not 100% believe in only sets this team back. They've built a team around defense before. They've signed aging veteran quarterbacks in the past. They've drafted quarterbacks too early before.
We know what the results always end up being.
The Commanders have a remarkable amount of young talent on both sides of the ball, and plenty of pieces to build on this offseason. But there shouldn't be a single untouchable player on this team. If Aaron Rodgers requires multiple first-round picks and two of our top players? The answer should be yes.
If trading for and spending a large amount of money on Russell Wilson brings No. 3 to DC? The answer should be yes.
Because the formula for success is right in front of our eyes. It's not building through a defense. It's not giving elite tools to back up quarterbacks. It's not spending tons of money on aging free agents. It's investing and building around an elite quarterback. Just ask a Bills fan. It might take some time, but when you hit on one, it simply changes a franchise.
If the Commanders aren't dedicated to giving everything they can to the quarterback position, the carousel of lacking success simply takes another trip around. But this offseason is a unique opportunity to change the narrative with a bold move for a star quarterback. The time is right now.