Washington Football Team: Five underrated options at No. 19 overall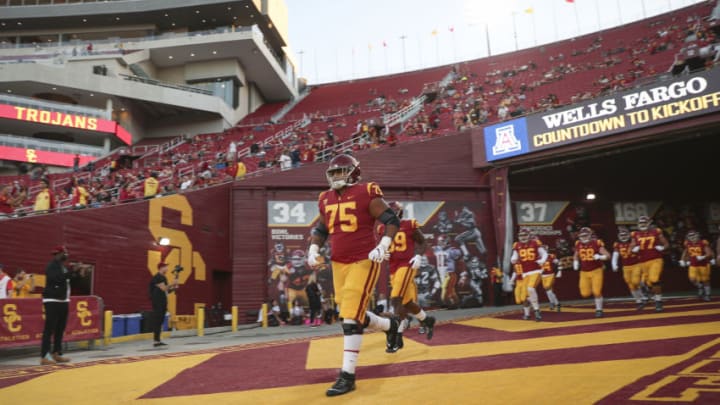 LOS ANGELES, CALIFORNIA - OCTOBER 19: Guard Alijah Vera-Tucker #75 USC Trojans run onto the field for the game against the Arizona Wildcats at Los Angeles Memorial Coliseum on October 19, 2019 in Los Angeles, California. (Photo by Meg Oliphant/Getty Images) /
LOS ANGELES, CALIFORNIA – OCTOBER 19: Guard Alijah Vera-Tucker #75 USC Trojans run onto the field for the game against the Arizona Wildcats at Los Angeles Memorial Coliseum on October 19, 2019 in Los Angeles, California. (Photo by Meg Oliphant/Getty Images) /
No. 1 – USC OL Alijah Vera-Tucker
I don't necessarily disagree with the fan base's infatuation over Christian Darrisaw. Darrisaw is a very good offensive tackle prospect, and I wouldn't be mad if Washington picked him. But many often cite the impending openings on the offensive line in 2022 at left and right tackle, as well as left and right guard.
I certainly think it's important to be future-minded. But if you're worried about needs at both tackle and guard, why not get an offensive line prospect who already has high-level reps at both tackle and guard? Why not get USC offensive lineman Alijah Vera-Tucker?
Darrisaw has more hype, but Vera-Tucker isn't far behind him on draft boards, and some evaluators might have Vera-Tucker ranked above him. Vera-Tucker is a very good athlete at 6-foot-4, 308 pounds. He has a 1.77 10-yard split (84th percentile), a 32-inch vertical, and a 106-inch broad jump. On top of that, he logged 36 bench reps at his pro day, speaking to his strength and power.
Beyond his athletic traits, Vera-Tucker's profile still holds strong. The USC offensive lineman is well-leveraged and fluid with his blocking sets, and he has a feel for proper mechanics. Additionally, Vera-Tucker has a mauler mentality, especially when blocking on running plays. He's not shy about imposing his will, and his shorter, stockier tackle frame allows him to have an easier time maintaining leverage.
Darrisaw is the popular name at No. 19 when discussing offensive tackles, but I almost like Alijah Vera-Tucker more because of his versatility. You can start him at left tackle and he'll be very good, but he also has the ability to play at guard in a pinch, if injuries change the unit's outlook. For ultimate security on the line, Alijah Vera-Tucker makes a lot of sense.
Are there any underrated first-round options left off the list that you want to discuss? Give us your favorite names for the Washington Football Team in the comments section below!