Washington Football Team: Ryan Fitzpatrick's retirement thins options further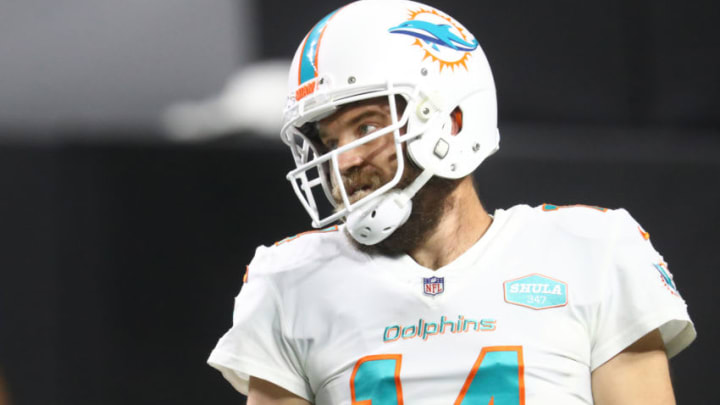 Miami Dolphins QB Ryan Fitzpatrick. Mandatory Credit: Mark J. Rebilas-USA TODAY Sports /
The Washington Football Team already has a relatively limited pallet when it comes to 2021 quarterback options. Now, with news regarding one of their potential options, the possibilities continue to dwindle.
The Washington Football Team's quarterback situation remains unsettled as free agency approaches. The team went into the 2020 regular season betting on Dwayne Haskins, but that experiment blew up in their faces. They managed to get enough solid play out of their other options — Alex Smith, Kyle Allen, and Taylor Heinicke — to win a stunted NFC East title, but questions still remain.
The Washington Football Team lacks both short-term security and long-term security at the quarterback position, and the factors aren't lining up in their favor to fix things this offseason. The free agent class is seriously underwhelming from almost every angle, and it's unlikely that the Washington Football Team goes all-in for a player like Dak Prescott or Deshaun Watson.
Furthermore, the Washington Football Team picks at No. 19 in the 2021 NFL Draft. The only quarterback who might feasibly be there is Mac Jones, and even Jones is starting to appear as if he'll require a trade-up for Washington to acquire him.
Simply put, things aren't looking great when it comes to the Washington Football Team's quarterback search. Even more simply put, this would be the perfect offseason to sign famed journeyman and passer-for-hire Ryan Fitzpatrick. But unfortunately, it looks like even that ship has sailed.
Since 2008, Fitzpatrick has been a borderline starting quarterback, and he's played with eight teams over the course of his career. After his stint with the Jets, in which he briefly played at a high level, Fitzpatrick was viewed as a quarterback who could stabilize unsettled quarterback situations. He at least gave Tampa some flexibility when Jameis Wintson went off the rails with interceptions, and he helped provide a buffer for Tua Tagovailoa in Miami.
Fitzpatrick would have been a very good addition for a Washington Football Team that doesn't currently have a starting quarterback — unless you're head over heels for Taylor Heinicke. But unfortunately, it seems as though Fitzpatrick himself, the ever-available quarterback, might be unavailable from this point forward. Per NFL reporter John Clayton, Fitzpatrick is leaning toward retirement.
On the surface, it seems like a relatively inconsequential development. But Fitzpatrick's absence only further thins the free agent QB class, and drives up the risk of a needy team, like the Washington Football Team, over-paying for an underwhelming signal caller. Some of the top names include Cam Newton, Jameis Wintson, Mitchell Trubisky, Jacoby Brissett. Andy Dalton, and Tyrod Taylor.
Some of those quarterbacks might be able to fill a Fitzpatrick-esque role. But without the man himself, there will be less options, while the amount of quarterback-needy teams remains the same. Supply is decreasing. But demand is still at an all-time high.