What it was like to be at a Washington Football Team game in 2020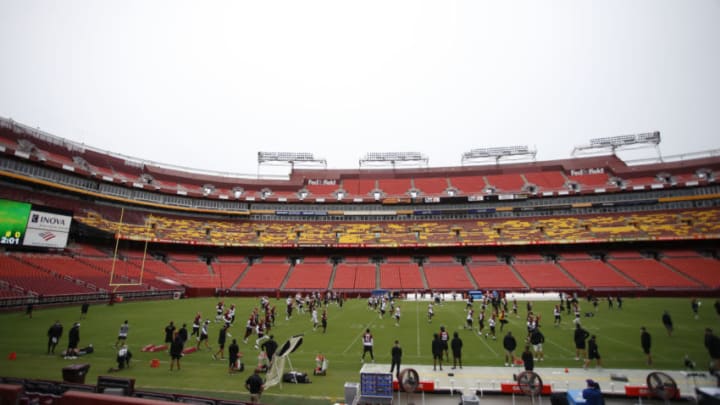 Aug 31, 2020; Washington, DC, United States; A view of a Washington Football Team practice at Fedex Field. Mandatory Credit: Geoff Burke-USA TODAY Sports /
This was my experience being one of the few fans who could attend the Washington Football Team's game against the Cleveland Browns.
It was a Saturday night, one week before the Washington Football Team traveled to Cleveland to play the Browns.
I was anxious, this was supposed to be the first road game I planned on attending this year but COVID-19 has changed so much, my reality of seeing live football this year seemed improbable.
However, when I wrote last week about home-field advantages for teams that are allowing fans, I knew Cleveland was one of the cities that was allowing a small percentage of fans into the stadium.
More from Riggo's Rag
Previously, I had already purchased tickets for the game, but they were refunded due to COVID.  The Browns announced they were going to allow 6,000 season ticket holder's to attend the game Sunday.  So maybe, just maybe some of these season ticket holders would sell their tickets on the aftermarket.
But with such limited ticket availability, I was nervous to see what the mark up on these tickets would be on the aftermarket reseller sites?  They were expensive, but to my surprise, not as bad as I imagined.  So I was going to Cleveland!
Once I knew tickets were available, I made sure to blast the availability all over WFT social media.  Let's fill this stadium with Burgundy & Gold I figured!
I started getting confirmation from a large number of fans going to the game.  This was getting exciting; life was starting to feel closer to normal again.
In years past, Washington would host a Road Rally where fans gather the night before in the city where the team is playing.  There would be giveaways and former players would be there for autographs and photo opportunities.  But what I enjoyed most was meeting other fellow diehards.
So Saturday evening we planned a meet up for a group of us who were in town for the game.  It was great seeing old friends and meeting a few new ones.  We had a great evening of creating memories and forming friendships.  No matter the outcome Sunday, we had already won.
Onto gameday.  First of all, for those who haven't been to Cleveland, the city is incredible.  The stadium sits directly on the shores of Lake Erie.  The backdrop of the downtown landscape and the sea of water is breathtaking.
That morning, we had planned on sending off the team to the stadium from the hotel, but we arrived a bit late.  My bad fellas.
But as we walked through downtown Cleveland, the feeling was eerie.  It was 10:30 am.  There was not a buzz in the city.  Most of the bars and restaurants weren't open.  We'd see random Browns fans walking through the streets, but not the tens of thousands you'd see on most game days.  There were WFT fans, quite a few, but most were walking through town, taking pictures, not tailgating.
As 11 a.m. approached and the stadium gates opened, we decided to go into the stadium.  There were no lines to get in.  As we were ushered to our seats we were told there was a strict policy on wearing our masks.  Yea, this was not a normal game day experience.
But then we get to our seats and that's when normalcy started to kick in.  We caught our first glimpse of the Burgundy & Gold warming up on the field.  We saw coaches leading the guys through stretches.  The defensive line doing drills right in front of us.  Haskins warming up with Terry McLaurin to the corner of the end zone where we sat.  Tress Way and Dustin Hopkins booming kicks.  Yea, this felt awesome!
It was my first look at the new helmets.  While the name change still feels surreal, it still felt like the same team to me.  I was happy about that, as I didn't know how I'd feel.  Many Cleveland fans shared with me their condolences on the retirement of our proud name and were just as upset for the name change as many of us.  But they were complimentary of our unique helmets and happy we kept the colors.
As game time grew near, the stadium had reached its capacity of around 6,000 people.  Much like FedEx Field, the Browns stadium has three levels, a lower level, a club level, and the upper level.  For this game, fans were sitting in the lower bowl and club sections only.  Seats that weren't being used were banded so no one could sit in the seats.
Quite honestly, especially as an opposing teams fan in enemy territory, the experience was rather nice.  It felt almost like a VIP experience with plenty of room around you.  There were no lines for bathrooms or concessions.  They had the stadium blocked into six zones, and you had to stay within your zone.  It was very easy to move around and quickly get back to your seats without missing any action.
The game itself felt much closer to normal then I expected.  They pumped in a little crowd noise, but there were enough fans there to make noise and let the players know we were there.  There was a buzz and excitement within the stadium.  No, not the normal game day experience, but much better then what these players must experience with no fans at all.
The result of the game didn't go in our favor, but Cleveland was fun.  I enjoyed the experience and having a few fans at the games is certainly better than none at all.  I sure wish Washington would reconsider later in the year.