Washington Football Team shuffles practice squad, adds TE and WR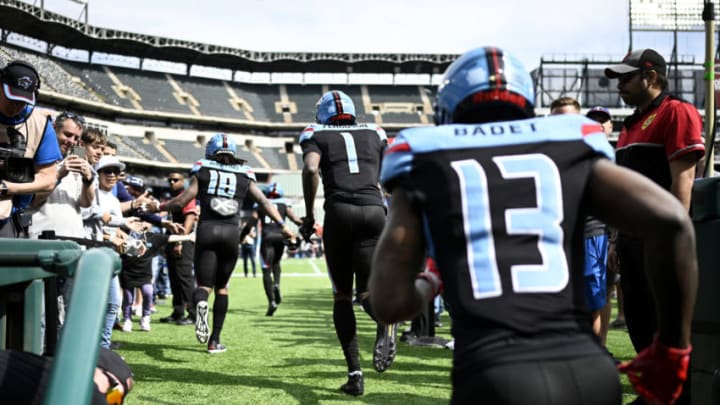 ARLINGTON, TX - MARCH 1: Freddie Martino #18, Jazz Ferguson #1, and Jeff Badet #13 of the Dallas Renegades run on to the field before the XFL game against the Houston Roughnecks at Globe Life Park on March 1, 2020 in Arlington, Texas. (Photo by Andrew Hancock/XFL via Getty Images) /
The Washington Football Team has shuffled around its practice squad personnel ahead of their Week 2 game against the Arizona Cardinals.
The new practice squad rules for the 2020 regular season have added some unexpected wrinkles for the 32 NFL franchises. Teams can promote two practice squad players per week and have them revert back to the practice squad without consequence, but teams can only promote a given player twice per year. This may force teams to shuffle around their squads. The Washington Football Team is getting a head start on that process.
As first reported by The Athletic's Ben Standig, the Washington Football Team has made a couple changes to its 17-man practice squad in the aftermath of the team's 27-17 Week 1 victory against the Philadelphia Eagles. Per Standig, Washington has released tight end Hale Hentges from the practice squad, and signed TE Temarrick Hemingway and wide receiver Jeff Badet.
Hemingway and Badet were part of a workout group that Washington hosted just two days ago. That workout group also consisted of young wide receivers such as Hakeem Butler, Quartney Davis, and Dillon Mitchell.
The decision to cut Hentges from the practice squad will be met with disappointment from some, as Hentges showed some promise last season. Playing in eleven games, he broke the 100-yard mark and added a touchdown late in the year. He also forged a strong final impression in the season's last contest, breaking the 60-yard mark on four catches in Week 17.
Ultimately, Hentges' lack of speed prevented him from standing out in training camp, and that very well could have been a factor in the team deciding to cut ties. With that being said, Hentges has proven to be a workmanlike player who has some utility as a blocker, so there's chance he'll get another opportunity elsewhere.
Now, onto the new additions. Hemingway, a 2016 sixth-round selection for the Los Angeles Rams, has bounced around the league since being drafted. He was with the Rams from 2016 to 2018, then spent part of the 2018 season with the Denver Broncos. In 2019, he was signed by Ron Rivera's Panthers and spent the season on their practice squad.
Hemingway doesn't have a single catch to his name, but he ran a 4.71 40-yard dash at 6-foot-5, 245, so there is some athleticism and special teams ability there.
Jeff Badet, meanwhile, is a former Kentucky and Oklahoma wideout who went undrafted in the 2018 NFL Draft. He distinguished himself with a 4.27 40-yard dash and a 39.5-inch vertical at his Sooners Pro Day, but he hasn't yet been able to catch on at the NFL level. He was with the Vikings for the 2018 offseason, but was cut before the regular season, and didn't resurface until 2020, when he joined the XFL's Dallas Renegades.
Badet is an intriguing signing at this stage; he's a bit undersized at 5-foot-10, 181, but he no doubt has game-breaking speed, and his college stats indicate that he was occasionally used as a hybrid wide receiver who provided versatility with his explosiveness. It'll be interesting to see how the Washington Football Team uses Badet. He has to prove he can stick around first, of course, but  his speed is rivaled by few.