NFL releases statement on Redskins' organizational misconduct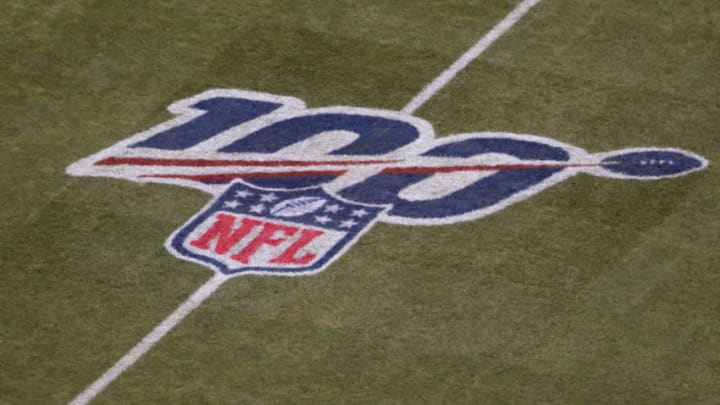 PHILADELPHIA, PA - JANUARY 05: A general view of the NFL 100 logo prior to the NFC Wild Card game between the Seattle Seahawks and Philadelphia Eagles at Lincoln Financial Field on January 5, 2020 in Philadelphia, Pennsylvania. (Photo by Mitchell Leff/Getty Images) /
The NFL may be getting involved after yesterday's bombshell report involving the Washington Redskins.
The anticipation finally culminated late in the day on Thursday, when a Washington Post article was released, detailing a history of sexual harassment and verbal abuse within the Washington Redskins organization, precipitated from the culture established by owner Dan Snyder.
Snyder was not named as a specific instigator; that label was used on former team reporter Larry Michael, former personnel department employees Alex Santos and Richard Mann II, and former front office executives Dennis Greene and Mitch Gershman. But Snyder still played a role in this misconduct, effectively enabling it and at times contributing to it with his own conduct.
According to NFL insider Ian Rapoport, the NFL released an official statement on the Washington Post article containing allegations of misconduct against Washington. Here is that statement in full:
Rapoport went on to say that, based on the NFL's statement, "discipline could be coming" to Washington and Dan Snyder. Rapoport explained that the team had pledged cooperation with the NFL in any incoming investigations. The league, meanwhile, stated its intent to "take any action based on the findings."
Depending on the degree of Snyder's influence on the toxic culture present in Ashburn, Roger Goodell does have the power to force Snyder to sell. But early speculation suggests that he'll keep his job through this incident.
In a separate report, insider Adam Schefter said that he envisioned Dan Snyder remaining as the team owner after the conclusion of this saga. Relayed in a Redskins Wire article by Zachary Neel, Schefter is quoted as saying the following: "Dan Snyder is going to own the team and that's not gonna change."
Of course, while Snyder may keep his post as owner, he will not come out unscathed. All three of the team's minority owners are looking to sell their shares, and it may be hard to find new buyers after these events. Additionally, the NFL does have the option of instituting punishment on the Washington NFL franchise, whether it be loss of draft capital or financial penalty.