Former Redskins Kirk Cousins, Kyle Shanahan face off in playoffs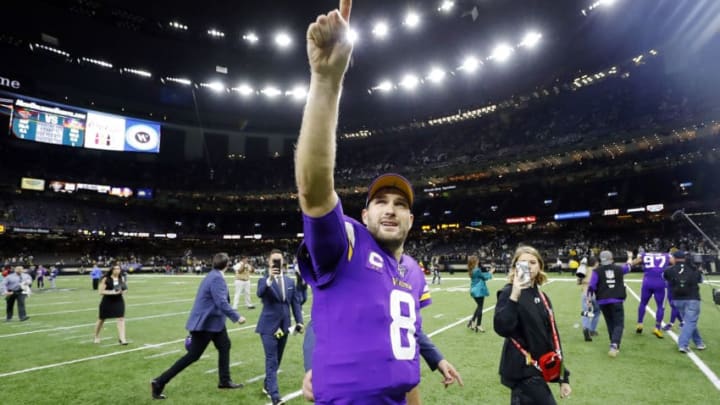 NEW ORLEANS, LOUISIANA - JANUARY 05: Kirk Cousins #8 of the Minnesota Vikings celebrates after defeating the New Orleans Saints 26-20 during overtime in the NFC Wild Card Playoff game at Mercedes Benz Superdome on January 05, 2020 in New Orleans, Louisiana. (Photo by Kevin C. Cox/Getty Images) /
It isn't often that two high-profile former Redskins face off on the national stage, but that's what will happen later today, at 4:35 eastern time.
Today's NFC divisional round matchup will serve as a reminder of past opportunities for Dan Snyder and the Washington Redskins fan base. Snyder's tenure has gone on long enough that there's now a laundry list of former ill-fated Redskins coaches and players to reference. But some have gone on to experience success, such as the two who will compete against one another today.
In today's NFL divisional round matchup, a San Francisco 49ers squad coached by former Redskins offensive coordinator Kyle Shanahan will play against a Minnesota Vikings team quarterbacked by former Redskins signal caller Kirk Cousins. The 49ers went 13-3 in 2019, earning the No. 1 seed in the NFC, while the Vikings went 10-6, earning a Wild Card berth behind the Green Bay Packers. Both teams played and beat Washington.
The nature of success for both teams has been unique, but both teams have exceeded expectations in 2019. Shanahan is a legitimate Coach of the Year candidate for the 49ers; his offensive schemes have paced the league, and his entire team is resilient in clutch moments. The same could be said for Cousins last week, who engineered a game-winning drive in overtime to beat Drew Brees the New Orleans Saints, earning the first playoff win of his career. After the game, he reprised his famous "You Like That" catchphrase, to the joy of his team mates.
For the Redskins, Shanahan and Cousins, who ended 2019 as one of the NFL's most efficient passers per advanced metrics, represent a certain success missing from the organization since the turn of the century, a success neither could cement while in D.C. It's a success Dan Snyder hopes to resurrect in the next era of Redskins football. He's already hired Ron Rivera, who's organized his new staff. Things are clearly changing in Washington, and it's easy to be optimistic. But it's also easy to look back, at figures like these, and ask what could've been.
With Rivera and other key players like Dwayne Haskins, Terry McLaurin, and the team's exciting defensive line, Snyder could attain a success never before seen in his tenure. But first, he'll have to watch two people he let go battle for an NFC Championship bid, and maybe an eventual Super Bowl.