Breaking down the Redskins' wide receiver depth chart for 2019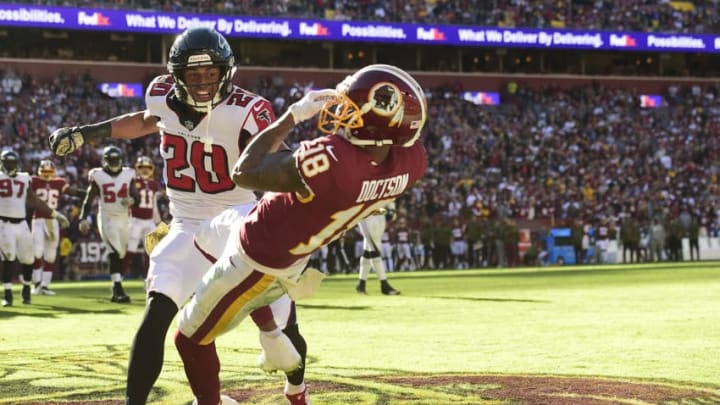 LANDOVER, MD - NOVEMBER 04: Wide receiver Josh Doctson #18 of the Washington Redskins catches a pass for a touchdown against free safety Isaiah Oliver #20 of the Atlanta Falcons in the second quarter at FedExField on November 4, 2018 in Landover, Maryland. (Photo by Patrick McDermott/Getty Images) /
LANDOVER, MD – NOVEMBER 04: Wide receiver Josh Doctson #18 of the Washington Redskins catches a pass for a touchdown against free safety Isaiah Oliver #20 of the Atlanta Falcons in the second quarter at FedExField on November 4, 2018 in Landover, Maryland. (Photo by Patrick McDermott/Getty Images) /
Redskins Starters: WRs Josh Doctson, Paul Richardson, and Trey Quinn
Let's just start by saying that literally everything in this piece is subject to change. These players are listed as the starters at the moment for a number of reasons, which will be explained. But all it takes is a strong offseason for someone else to enter the starting equation. Rookies Terry McLaurin and Kelvin Harmon have the most potential to rise, in that regard, but even then, there are a few others who have the potential to do so.
For now, however, we're sticking with the players who have some experience in the Redskins system, and the players who have NFL starts under their belt. The team could start someone else in favor of Josh Doctson, since Doctson is all but gone in 2020. But they've always taken to starting the best players, and they may see Doctson as such, despite his cloudy future with the team.
These three receivers will fill up the traditional X, Y, and Z-receiver roles as starters, but where they line up is up to the team. Such positions are versatile, and the Redskins would do well to mix it up. But a likely lineup, from this point, is the Redskins having Doctson and Paul Richardson on the boundaries, and Trey Quinn in the slot.
More from Riggo's Rag
The biggest question mark in this group might be the highest-paid. Richardson has the speed to gain separation, and he's a detailed route runner who made some good catches last year. But staying healthy has been a problem for him his entire career, and last year, injuries hit hard. He was never able to maximize his play due to lingering ailments, and by Week 10 versus Tampa Bay, he landed on injured reserve. In his five-year career, Richardson has only played all sixteen games once. It's a trend at this point, but if he's healthy, his speed could make a modest difference on the flank.
Opposite from Richardson, there will be Doctson. Doctson has filed in on the boundary for most of his time in Washington, and as long as the Redskins opt to start him, that won't change. Something could be gained from placing Doctson in the slot more often, cultivating artificial separation for him and allowing him to play in space a bit more. But we usually see Doctson and his 41-inch vertical on the outside, and that's probably where we'll see him in 2019.
Doctson's always outstanding athleticism, and he's only missed one game over the past two years. That said, while Doctson carved out a niche as a solid receiver last year, converting the chains in crucial moments, his NFL progression was stalled by injuries and poor work on the staff's part to develop him. If the 26-year old is to reach new heights, it will likely be with another team. But if Doctson can refine his nuance this offseason, and rework his game, he could mesh well with Dwayne Haskins. It all depends on Doctson fixing the snag on his developmental curve, and the Redskins giving him the right opportunity. So basically, it's a long shot.
The third starting spot is trickier to predict, as Terry McLaurin could factor in here. Jay Gruden is also on the record speaking about potentially shifting Kelvin Harmon into the slot, from a situational standpoint. But for now, the job is Trey Quinn's.
Quinn, who earned the Mr. Irrelevant label in 2018 after being the last pick in the 2018 NFL Draft, was on his way to becoming relevant in his rookie season, before injuries cut his campaign short. Quinn had trouble staying healthy, but when he was available, his crisp route running skills and sure hands were put on display. He flashed against Houston, catching four passes for 49 yards, and again at Dallas, where Quinn caught his first NFL touchdown: a leaping, contested catch from Colt McCoy.
Quinn earned early favor with Jay Gruden in the offseason, as Gruden is quoted conveying his excitement for Quinn's development as a starter in the slot. Those words mean less now that the Redskins have two drafted rookies in the fold, but they still hold weight. Quinn has been drawing attention in OTAs, and should he continue to do so, he could hold down the starting slot job for the rest of the year.