Washington Football Team: A Memorial Day remembrance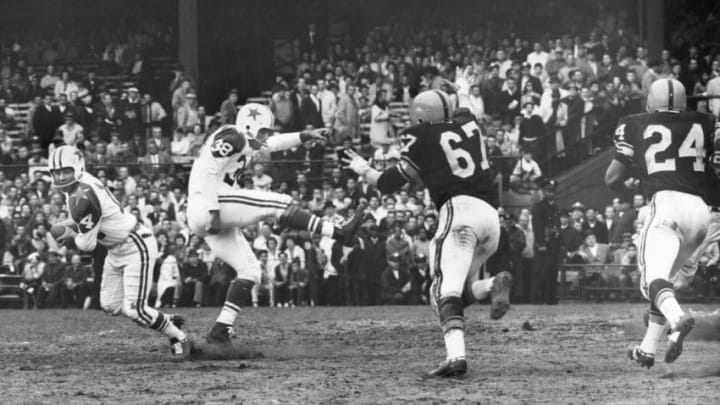 PITTSBURGH - OCTOBER 21: Eddie LeBaron #14 of the Dallas Cowboys rolls out on a fake punt executed by Sam Baker #38 against Bob Schmitz #67 and Johnny Sample #24 of the Pittsburgh Steelers during the game at Pitt Stadium on October 21, 1962 in Pittsburgh, Pennsylvania. (Photo by Robert Riger/Getty Images) /
PITTSBURGH – OCTOBER 21: Eddie LeBaron #14 of the Dallas Cowboys rolls out on a fake punt executed by Sam Baker #38 against Bob Schmitz #67 and Johnny Sample #24 of the Pittsburgh Steelers during the game at Pitt Stadium on October 21, 1962 in Pittsburgh, Pennsylvania. (Photo by Robert Riger/Getty Images) /
WFT Players in the Military, Part Three
Ki Aldrich
Ki Aldrich played for the Washington Football Team from 1941 to 1942 and 1945 to 1947.  He was a Pro Bowl center and linebacker for the Burgundy and Gold.  In 1943 and 1944, Aldrich served in the Navy.  Like several other Washington teammates, it is believed that he went to Idaho to play on a service team that played against German prisoners.  Aldrich retired from football after the 1947 season and passed away in 1983.  Fair Winds and Following Seas, Mr. Aldrich.  Your shipmates have the watch.
Eddie LeBaron
Quarterback Eddie LeBaron was very undersized, but he made up for it with hard work and determination.  He was with the Washington Football Team from 1952 to 1959 (he spent the 1954 season in the Canadian Football League) and was a three-time Pro Bowler in DC.  In 1950 and 1951, LeBaron served in Korea as a Marine Corps 2nd Lieutenant.  He was awarded a Bronze Star and Purple Heart after being injured twice.  LeBaron was involved in the NFL for many years as an executive.  He passed away in 2015.  Semper Fidelis, Lt. LeBaron.  Once a Marine, Always a Marine.
Cliff Battles
Cliff Battles was a Hall of Fame halfback for Washington from 1932 to 1937.  He was an original member of the team (the franchise was known as the Boston Braves in 1932 – their first season) and went on to be a coach for many years.  He served for two years with the Marines in 1944 and 1945 as a coach of the El Toro Marine Base team in California during that time.  He passed away in 1981.  Semper Fidelis, Mr. Battles.  Once a Marine, Always a Marine.