Redskins studs and duds from team's Week 4 loss to Giants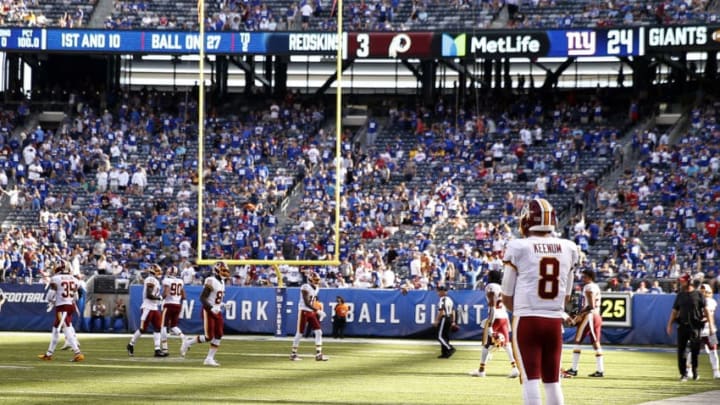 EAST RUTHERFORD, NEW JERSEY - SEPTEMBER 29: Case Keenum #8 of the Washington Redskins stands on the sideline in the second half against the New York Giants at MetLife Stadium on September 29, 2019 in East Rutherford, New Jersey. (Photo by Elsa/Getty Images) /
EAST RUTHERFORD, NEW JERSEY – SEPTEMBER 29: Case Keenum #8 of the Washington Redskins stands on the sideline in the second half against the New York Giants at MetLife Stadium on September 29, 2019 in East Rutherford, New Jersey. (Photo by Elsa/Getty Images) /
Dud No. 1 – QB Case Keenum
The day of Case Keenum's benching came sooner than most would have expected. Against the Giants, Keenum went 6 of 11, for 37 yards and an interception in the first half. He was unable to move the offense, and after Quinton Dunbar's first pick, Jay Gruden threw Dwayne Haskins in.
Keenum wouldn't see the field for the rest of the outing, and it's unclear if he'll see the field again for the burgundy and gold. There's a number of things the Redskins could do at this point. They could stick with Haskins, and better prepare him for the coming weeks. They could go to Colt McCoy, which seems possible if Jay Gruden stays past this week.
But Keenum's time as starter, at the very least, is delayed. Gruden mentioned in last night's press conference that Keenum's foot looked like it was bothering him against New York, but Keenum said he was surprised by the benching, implying he didn't see a need for the move. Keenum didn't seem as spry in the pocket, and he took a number of bad sacks because he wouldn't throw the ball away. He also missed a couple wide open throws to Trey Quinn downfield, killing chances for the offense.
In two weeks, after starting on a solid pace, Keenum has turned the ball over six times, and he struggled to move an admittedly short-staffed offense against one of the worst statistical defenses in the NFL. It's looking more and more likely that Keenum will be relegated to the backup role he's become comfortable with over the years.