After a thorough interview with the Bills Fansided blog at Buffalowdown.com about the Redskins and how they stack up against the Bills, it got me thinking. I believe there are (at least) three good reasons why the Redskins will win this game in Canada.
1. Ryan Fitzpatrick is a pocket passer
Fitzpatrick has certainly done a great job this year given the expectations of the Bills at the beginning of the season. The only problem with him is that he's not exactly Michael Vick, or even John Beck for that matter. He may have an IQ of 200, but all the only equation he'll be worried about Sunday is 91 + 98. The Redskins have fared far better against pocket QB's this year. The Redskins three wins come over the Giants and Eli Manning, the Cardinals and Kevin Kolb and the Rams with Sam Bradford. Washington's three losses? Tony Romo (he can move, not so much in this particular game though), Michael Vick and Cam Newton. I think they get a great rush going today so long as they contain Fred Jackson.
2. The Buffalo Bills give up a lot of yards
Buffalo has been getting gashed this year on defense. They give up 420 yards, per game, about 285 through the air and 135 on the ground. The Redskins have seen this setup before though. "Oh team X has a terrible defense, we should be able to move the ball." The Bills gave up a combined 58 points to the Raiders and Bengals this season already, not to mention a performance in which they picked off Tom Brady four times and managed to win the game by three points. This defense is only great when they are forcing turnovers. If Washington limits the turnovers, they can win this game.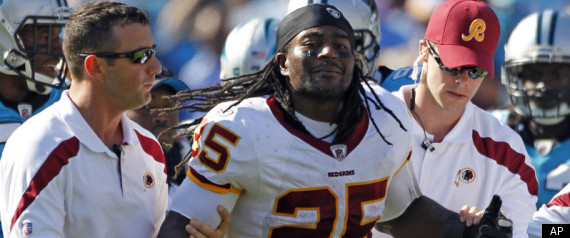 3. The Redskins are an underdog
The Skins are a six point underdog as of right now. They seem to play much better when the pressure is off, or they're expected to lose. There is also the always beloved "Accuscore Game Forecast" on ESPN, which has the Bills chances of winning at 71.%. I like those odds if I'm a Redskins fan (no, I'm not crazy).
Want more Redskins news and notes? Follow me on Twitter! @KMawyer2
Tags: Buffalo Bills Canada Defense Fred Jackson John Beck London Fletcher Rogers Ryan Fitzpatrick Toronto Washington Redskins