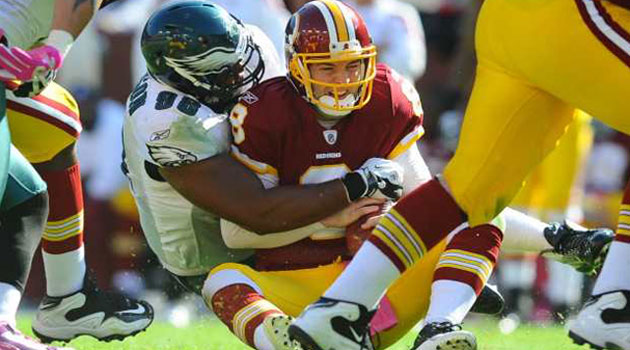 It was a game to forget from every single standpoint. There were injuries and turnovers. The defense played about a half of solid football. The Redskins couldn't tackle anybody wearing green. These issues, however, were not the reason the Skins lost this game. This game was all on Rex Grossman.
Rex completed 9/22 passes for 143 yards and four, count 'em, four interceptions.
Not one! Not two! Not three!…
This guy is exactly who we thought he was. We know he can throw three touchdowns and 300 yards in a game, but we also know he can throw four interceptions in a Jay Cutler-like performance at home. Two of his four picks weren't even close. Maybe he was just "trying to make a play" or maybe he wasn't; either way the ball ended up in the hands of the Eagles four times too many.
Maybe you weren't at the game and you didn't hear the boo's for Rex. Maybe you didn't see the standing ovation for John Beck as he entered the game and led Washington to their only touchdown of the game (on a quarterback draw, I might add). If you can't understand just how bad Rex was on Sunday I have a stat for you:
Fred Davis had six receptions for 95 yards on Sunday. Rex Grossman's second leading receiver? Eagles second-year defensive back Kurt Coleman with 3 interceptions and 25 yards on return.
Grossman is 92 of 165 on the season, that's a 55.8 completion percentage. He's got 1,132 yards and nine interceptions to just six touchdowns. Nine interceptions in five games. Jason Campbell didn't even turn the ball over that much, neither did Donovan McNabb. It has to end here for Rex.
The talk all week will be about who starts against Carolina and I'm sure many will be calling for John Beck to trot out there Sunday. The real answer to the quarterback question is does it matter? Does it matter whether the relatively unknown John Beck goes out there or if Interceptasaurus Rex is taking the snaps? Can the Redskins, as a team, get their act together or will the injuries begin to mount and their entry into the Andrew Luck contest be sealed?
Another thing to think about is whether or not we've seen Chris Cooley's last game in the burgundy and gold. This guy shatters his finger after already being surpassed by one of the few bright spots on this team in Fred Davis. Is this the end for Cooley?
I'll talk Cooley and his time here in Washington in my next post. Stay tuned!
If you'd like to follow me on twitter you can click here.
Tags: Andrew Luck Chris Bosh Dwayne Wade Interception John Beck Kurt Coleman Lebron James Miami Heat NFL Draft Passing Philadelphia Eagles Rex Grossman Washington Redskins