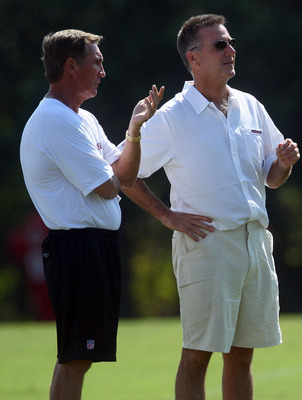 The Redskins have the 10th and 41st overall selections in April 28th's NFL Draft. This will be a first for the Burgundy and Gold as the team has never selected in either spot since the NFL/AFL merger in 1970. The closest draft slots that the Redskins have had to the 10th and 41st picks is the 9th overall pick in 2005 where the team drafted Carlos Rogers out of Auburn, and the 44th pick in 2003 in which the team drafted Taylor Jacobs out of Florida. This will also be Mike Shanahan's first time as head coach of a team selecting at #10; however Shanahan has had the 41st overall pick before.
The Broncos had the 41st overall pick back in 2004 and used that pick to select running back Tatum Bell from Oklahoma State. Bell played in 54 games over 5 NFL seasons with Denver and Detroit, had a bad reputation for costly fumbles, and was most recently waived by the UFL's Florida Tuskers last summer. In his five drafts as an NFL general manager, four with Tampa Bay and one with the Redskins, Bruce Allen has never selected 10th or 41st overall.
In the last ten years, the #10 overall pick has been a mixed bag. Of the ten 10th overall selections since 2001, two were Defensive Rookies of the Year (Terrell Suggs 2003, Jerod Mayo 2008), two are no longer in the league (Jamal Reynolds 2001, Levi Jones 2002), one was the youngest player ever to be drafted in the first round (Amobi Okoye 2007), one is still laughing all the way to the bank (Dunta Robinson 2004), and two Southern Cal Trojans haven't fulfilled pro expectations and are reminiscing of better days in college (Mike Williams 2005, Matt Leinart 2006). The jury is still out on the two that I omitted: 2009's Michael Crabtree and 2010's Tyson Alualu. Of the 10 players selected at 41st overall in the last decade only six remain in the league today and only offensive tackle Michael Roos of the Tennessee Titans has earned a Pro Bowl nod. With so many holes to fill on the Redskins current roster it is hard to predict what direction the team will go with these two picks. Let's just hope for a pairing that someday resembles Suggs and Roos more than it does Leinart and Bell.